PsycTESTS® is a research database that provides information on tests mined from the scholarly literature in PsycINFO®. Nearly 40,000 unique tests are represented in PsycTESTS, organized into 15 instrument types and 30 classifications.
There are a number of ways to search for a test, including the author name, keywords, test name, or test construct. (A construct is the concept the test is measuring, such as Confidence or Anxiety.)
PsycTESTS also includes limits, or controlled lists of values, that can be set before you run the search, toward the bottom of the advanced search page, or after you run the search, along the side of the search results page. These limits include:
Administration Method – how the test is given to participants, such as Paper or Interview.
Fee – indicates whether or not there is a fee for test use.
Instrument Type – the primary testing category of the instrument, such as Checklist or Task.
Permissions – the level of permissions needed in order to use a test. The Permissions statement may grant use for non-commercial research and teaching, or it may specify who to contact to obtain these permissions.
Supporting Documentation – supporting documentation types, such as instructor guide or answer sheet.
These next three limits may seem familiar from PsycINFO:
Age Group – specific population age groups that were the focus of the test.
Population Group – populations to which the test was administered. Possible values are Human, Animal, Male, Female, Inpatient and Outpatient.
PsycTESTS Classification – the general area of psychology that the measure is designed to assess, such as Human-Computer Interaction or Personality. (The PsycTESTS Classification system was created using the same principles behind the PsycINFO Classification Codes, but the codes and descriptors are different for these databases.)
There is also a Full Text Test Available checkbox that limits your search to records that have the PDF of the test attached to the descriptive record.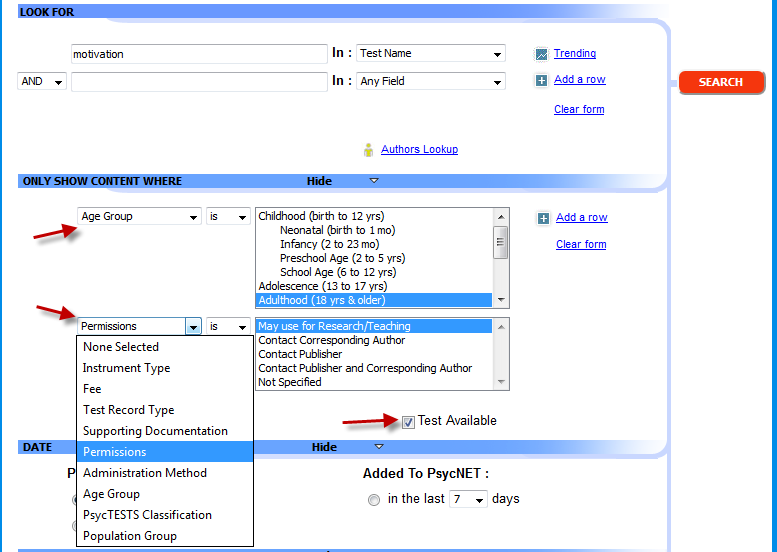 Opening a record from the search results takes you to the Test Master Record, which provides a profile and descriptive summary of the test.
Test Master Records have one or more Test Child Records that include information related to the test's development, use, or review.
Child records may be:
Test Development: discusses the development of the test. You'll see this for most of the tests in the database.
Test Review: reviews the test – this is available for a small percentage of the tests.
Test Use: reports on a new use of the test – for example, a researcher may have taken a test designed for adults and administered it to teenagers. This is also available for a small percentage of tests.
For more detailed information for your platform – APA PsycNET®, EBSCOhost, Ovid or ProQuest – please view our presentation on SlideShare.