It's Tutorial Thursday! In this series, we explore APA's library of video tutorials available on the PsycINFO YouTube channel and the APA Style CENTRAL® YouTube channel. Please feel free to link to or embed our videos in your library websites or LibGuides, course management systems, or other locations where students, faculty, and researchers will find them.
Searching "All fields" or "keywords" in a database such as PsycINFO® is a simple way to get started with research. Using the indexed subject headings found in APA's Thesaurus is a more effective way to hone in on the resources you need.
A new version of the tutorial for using the APA Thesaurus on ProQuest is now available. This three minute video has demo searches that show how using the Thesaurus' subject headings helps you research PsycINFO with depth and efficiency.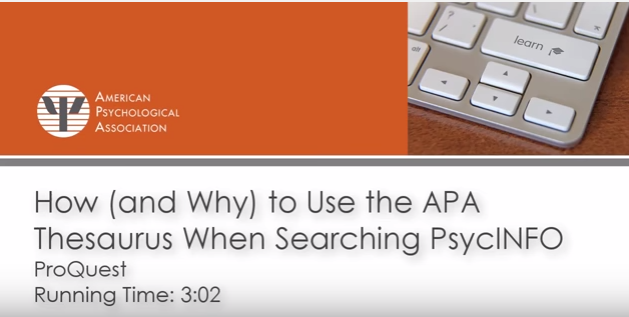 The tutorial is a great resource to link from a LibGuide or course module for an entry-level psychology class, and can be helpful in answering email or chat reference inquiries about the topic.
Related Resources: