Welcome to "From the Deck of . . ." an irregular series in which we highlight search demos and other information from the slide decks we create for our live training sessions. You can view and download these materials from our SlideShare account.
One of the items we discussed during our presentation at the American Library Association Midwinter Meeting was how to find book reviews in PsycINFO. We performed this search demonstration live using ProQuest, and have recreated it below with screenshots. You can take similar steps to complete this search on APA PsycNET, EBSCOhost, or Ovid. If you need assistance, talk to a librarian, or contact us at psycinfo@apa.org.
Before we get started, remember that PsycINFO is not a full text database, so the full text of the reviews you find may not be displayed. If you're searching PsycINFO through your college or university's subscription, ask a librarian for help finding the full text. If you're searching through an individual subscription to APA PsycNET, this brief tutorial may be of assistance.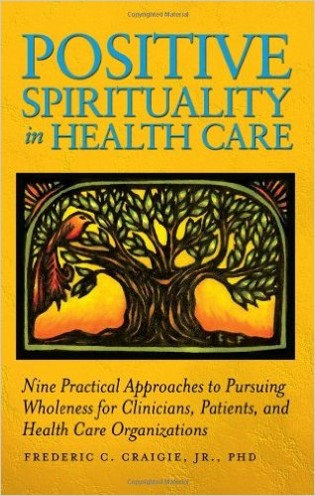 Let's say that you're thinking of using Positive Spirituality in Health Care, by Frederic C. Craigie, Jr., in an upcoming course, and are interested in seeing some reviews of the book. Start by making sure you're searching only PsycINFO. Find the "Reviewed work – RV" field and enter the name of the book: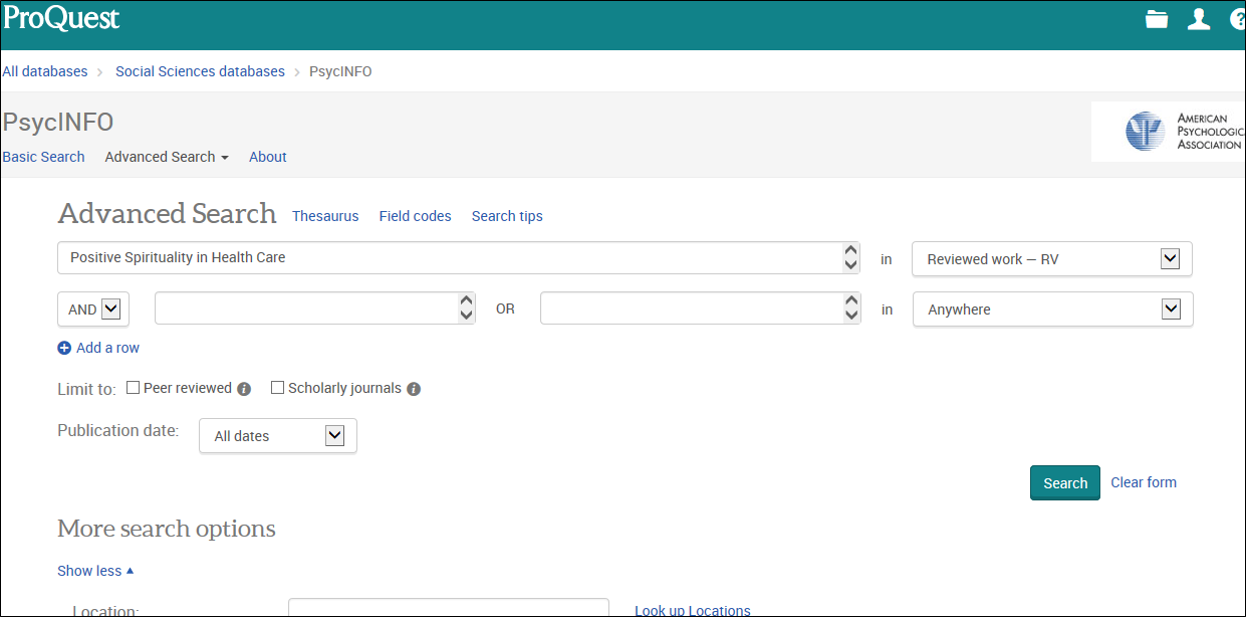 There's a review in the journal Families, Systems, & Health.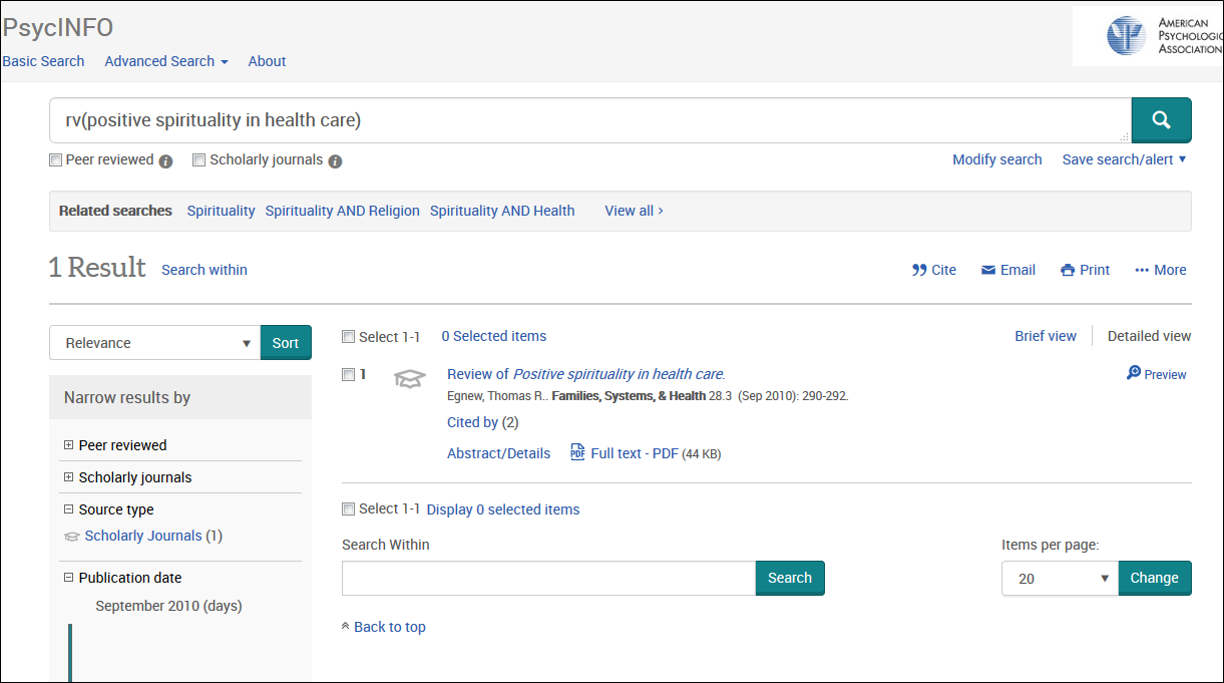 This is a journal published by APA, with full-text available in our PsycARTICLES database. If you have access to PsycARTICLES on ProQuest, you'll automatically have access to the full text.
What happens if you don't find any reviews of the book? If you're interested in reading reviews no matter when they come out, you can turn the search into an alert. Here's a search for reviews of Supervision Essentials for the Integrative Developmental Model, by Brian W. McNeill, PhD, and Cal D. Stoltenberg, PhD. As you can see, none are available yet. To turn the search into an alert, click "Recent searches."
Then, hover over "Actions" next to the search. You can get an RSS feed that will deliver any relevant results when they're added to PsycINFO, or you can set up an email alert that will do the same.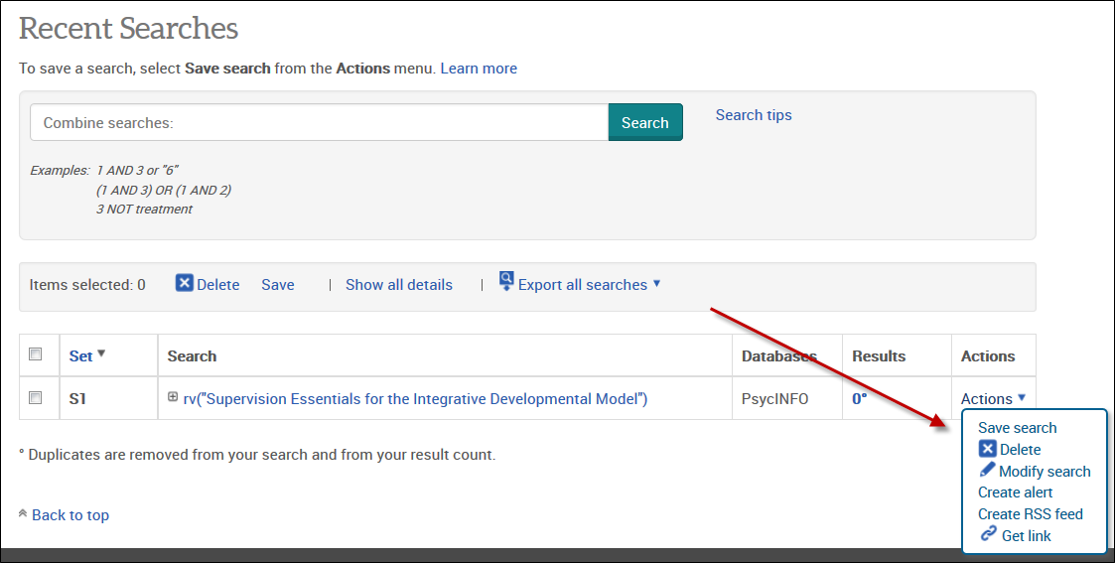 To set up an email alert, click the "Create alert" option and fill out the form. (ProQuest does not require that you have a free account to set up alerts, but other interfaces do, so you may need to set one up at this point.)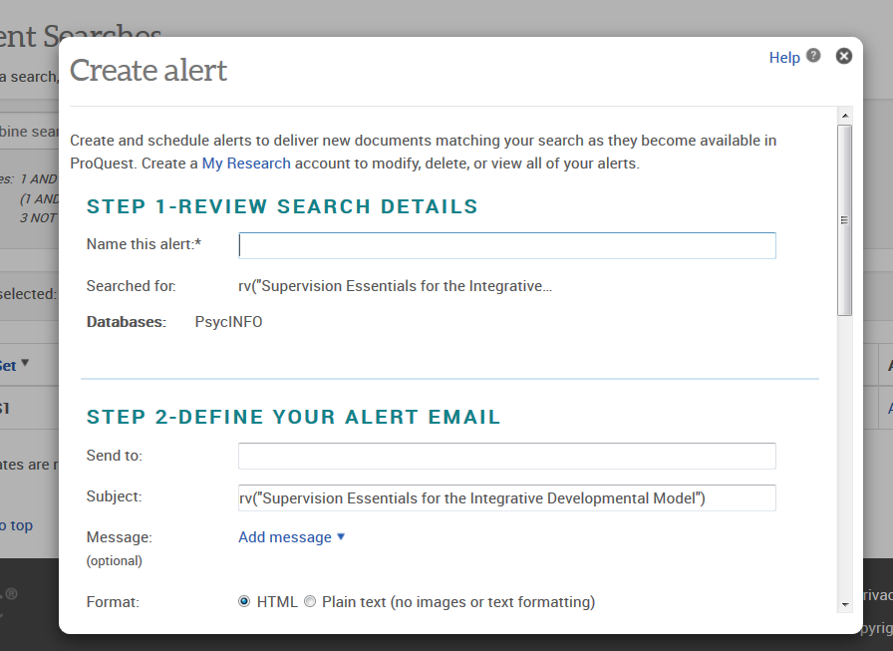 That's it! On ProQuest, your search will remain active for 1 year, and you have the option to extend it if you need.
During our presentation at ALA Midwinter, we presented three other live search demos. Screenshots for all four of them are available by downloading the slides.
EBSCOhost: Using the Thesaurus
APA PsycNET: Sort search results by Times Cited
Ovid: Using the Author Affiliation field