It's Tutorial Thursday! In this series, we explore APA's extensive library of video tutorials, available on YouTube. Please feel free to link or embed videos or playlists in library websites or LibGuides, course management systems, or other locations where students, faculty, and researchers will find them.
Our video tutorials are a popular resource for people trying to quickly learn how to search APA Databases. But they're also a rich source of material for librarians and instructors who are teaching students how to efficiently search PsycINFO® and other databases.
For many of our tutorials, we create a version for each of the major vendor platforms: APA PsycNET®, EBSCOhost, Ovid, and ProQuest. When looking at the most-viewed tutorials for each platform in 2015, we noticed that three tutorials appeared on each list.
Taken together, these three tutorials demonstrate how to translate a research question into a search strategy that takes advantage of the powerful tools built into PsycINFO. This mini-series is a great way for instructors to set the stage before a class meeting, or for students to refresh their memory once it's time to find sources for an assignment.
Sample PsycINFO Search
In this tutorial, which we discussed in our first Tutorial Thursday post, we provide a quick overview of how to turn a research question into a productive search strategy.
How (and Why) to Use the APA Thesaurus When Searching PsycINFO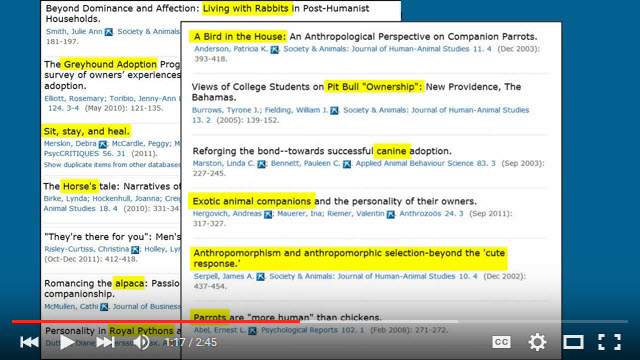 This tutorial looks more closely at using the Thesaurus of Psychological Index Terms®, explaining why a search using an Index Term can be helpful. Viewers learn how to find an appropriate term and add it to their search. (You may also be interested to learn more about our December 2015 update to the Thesaurus.)
Find Three Peer-Reviewed Empirical Articles in PsycINFO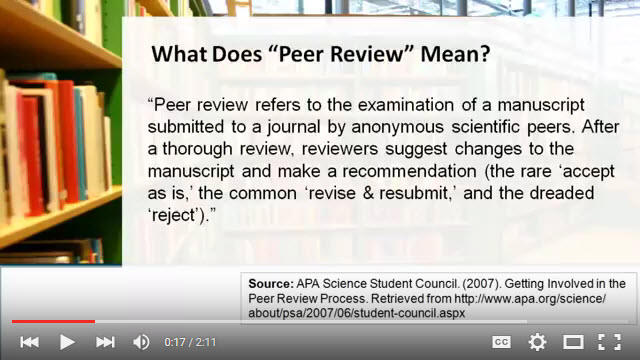 Lastly, this video demonstrates how to use PsycINFO's limiters to find peer-reviewed, empirical journal articles – a common requirement for papers and other assignments that college students are preparing.
We've created playlists with these tutorials, so you can quickly and easily access the versions for your interface:
Top Three Tutorials in 2015: