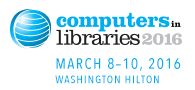 Computers in Libraries will be held at the Washington Hilton in Washington, DC, from March 8 – 10. Look for representatives from the American Psychological Association in the exhibit hall, at booth 514. Stop by to learn more about APA Style® CENTRAL, an exciting new electronic resource for APA Style that's currently in development, and get the latest updates about APA Databases.
Tuesday, March 8: 10:45 a.m. – 6:00 p.m. (Networking reception begins at 5:15 p.m.)
Wednesday, March 9: 10:45 a.m. – 4:00 p.m.
Thursday, March 10: 9:45 a.m. – 12:45 p.m.