It's Tutorial Thursday! In this series, we explore APA's extensive library of video tutorials, available on YouTube. Please feel free to link or embed videos or playlists in library websites or LibGuides, course management systems, or other locations where students, faculty, and researchers will find them.
The start of any semester brings new students to campus, but fall semester in particular brings with it a wave of students who may find themselves working with new and unfamiliar research tools and terminology.
How to identify and locate peer-reviewed articles is a common question at most academic library reference desks. For some social science classes, students must empirical studies that have been peer-reviewed. To aid students and others who need assistance with – or a refresher on – using PsycINFO® to locate this type of information, we have a brief tutorial on finding peer-reviewed, empirical articles.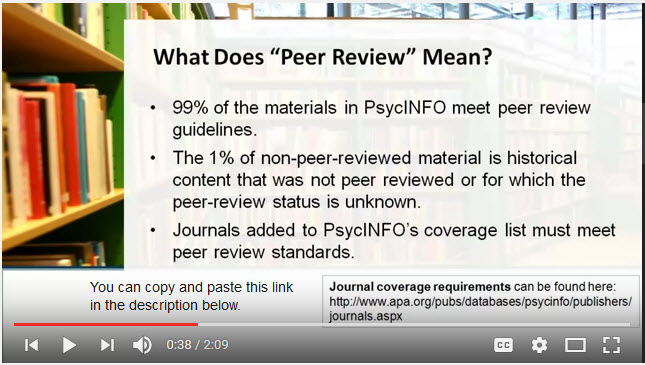 Four versions of this tutorial are available, using demo searches on each of the major vendor platforms – APA PsycNET, EBSCOhost, ProQuest, and Ovid. They each follow the same model, defining peer review and moving into a search of PsycINFO that uses the Methodology limiter.
The tutorial is about two minutes long. It's a great resource to link from a LibGuide or course module for an entry-level psychology class, and can be helpful in answering email or chat reference inquiries about the topic much more easily.
Find Three Peer-Reviewed, Empirical Articles in PsycINFO tutorials for: