APA Style CENTRAL® is an authoritative resource developed by our Style Experts. It is a suite of services and tools designed to ease the pain points encountered by students, instructors and librarians in teaching, learning, and writing in APA Style. Online Introduction webinars are offered weekly, and are a great way to take a structured tour of all of the tools available in this revolutionary new resource.
Many attendees at these sessions – as well as those who are exploring APA Style CENTRAL on their own, through a free trial for their institution – have the same questions. We have gathered them into two sets of Frequently Asked Questions (FAQs). A General FAQ suitable for all users, including students and faculty, and an Administrative FAQ intended for librarians.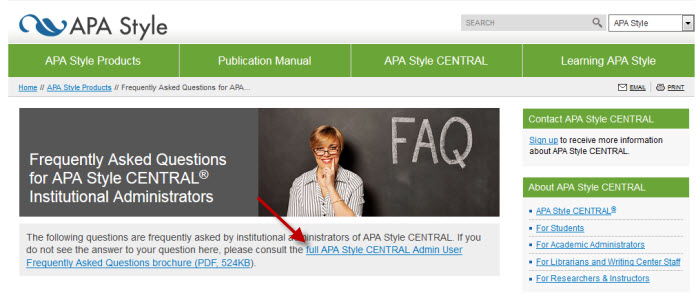 Both of these FAQs are available on the APA Style CENTRAL website. When reviewing these FAQs, don't miss the extended versions! These are available as PDFs linked at the top of the webpage.
If your question isn't answered in the FAQs, or if you'd like more details, please contact us at support@apastylecentral.org.