It's Tutorial Thursday! In this series, we explore APA's extensive library of video tutorials, available on YouTube. Please feel free to link or embed videos or playlists in library websites or LibGuides, course management systems, or other locations where students, faculty, and researchers will find them.
For today's edition of Tutorial Thursday, we'd like to share a recording of one of our APA Style CENTRAL® webinars: Teaching With APA Style CENTRAL. You'll find this recording on our new APA Style CENTRAL YouTube Channel, where we plan to add recordings of our other webinars, and other materials as they become available.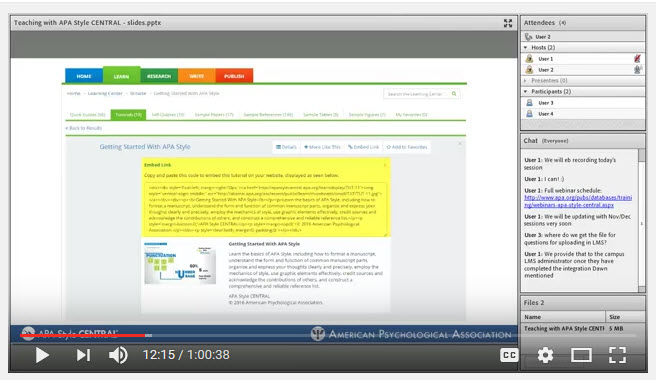 This session is geared at faculty members, librarians, instructors, and others who are responsible for teaching APA Style, and covers the content, features, and tools of APA Style CENTRAL that can be incorporated into course and bibliographic instruction. This includes a brief discussion of integrating APA Style CENTRAL into a learning management system, as well as an overview of how to use the Research Lab Book tools with a class or advisee.
We will be offering additional, live sessions of this webinar again early in 2017. When the schedule is ready, we will post the details here and on our website.