APA Videos has several video series showing psychologists demonstrating their expertise for educational and training purposes:
The APA Psychotherapy Video Series presents distinguished psychologists demonstrating specific approaches to a wide range of patient problems. Most sessions are with actual volunteer participants, making these recordings rich illustrations of what real therapy is like.
The Psychotherapy Supervision Video Series provides a thorough review of the latest approaches to clinical supervision. Each video in this series shows supervisors demonstrating work with a student in a candid, unedited session.
The new Psychological Assessment Video Series presents psychologists demonstrating how to administer commonly used tests and instruments. The videos in this series provide an introduction to tests that measure personality as well as emotional, behavioral, and cognitive functioning.
All of these videos are designed for clinical training and education. In addition to the demonstration, each video features an interview in which the guest expert psychologist discusses the approach taken in the demonstration session. They provide reactions and thoughts on how the session went, including an analysis featuring video excerpts from the session.
Also available from APA are short series such as Cognitive-Behavior Therapy for Depression, Cognitive Behavioral Therapy Techniques and Strategies, and Emotion in Psychotherapy, all of which feature a panel of guest experts discussing specific aspects of therapeutic approaches and analyzing brief clips that show client–therapist interactions.
Single-title streaming versions of APA Videos are now available for sale to educational institutions as well as individual mental health practitioners.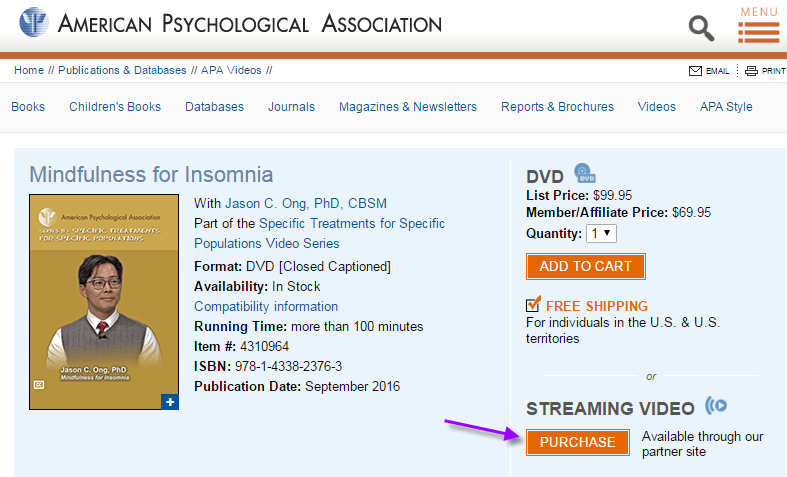 On the APA Videos site, each title has a link to purchase the streaming version from the Alexander Street Academic Video Store.
There are currently 250 APA videos available for streaming purchase, and we add new titles within a month of their release. You can browse APA Videos here.