It's Tutorial Thursday! In this series, we explore APA's extensive library of video tutorials. In addition to our APA Databases and Training Videos available on YouTube, we now have an emerging library of training videos on our new APA Style CENTRAL® YouTube Channel. Recordings of webinars, like the one linked below, and other training videos are added as they become available.
For today's edition of Tutorial Thursday, we'd like to share a recording of one of our APA Style CENTRAL webinars: Writing With APA Style CENTRAL.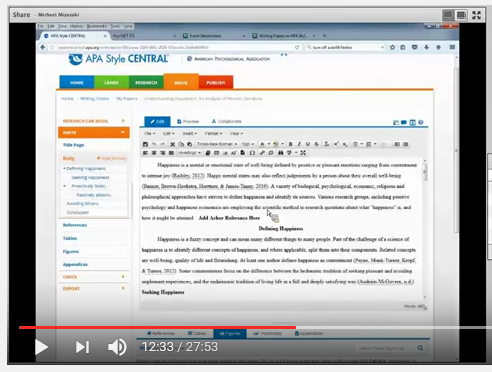 Covering the unique features and tools that make APA Style CENTRAL a powerful resource for writing in APA Style®, this webinar is designed for undergrad students who are new to APA Style, as well as graduate students and faculty members looking for a refresher. This session provides a brief overview of how to:
Seamlessly include all of the required elements of APA Style when writing your paper;
Create and manage your APA Style references with ease and accuracy, including RIS-import from your current reference manager;
Easily create a properly formatted reference list and in-text citations; and
Use the collaboration functionality for simple annotated review or multiple authorship.
Please feel free to link this video or any of our APA Style CENTRAL playlists in your library websites, LibGuides, course management systems, or other locations where students, faculty, and researchers will find them.
With the winter holidays behind us, we will resume our live sessions of this webinar again in late January. When the schedule is ready, we'll announce it here on the blog and post it on our APA Style CENTRAL training web page.