It's Tutorial Thursday! In this series, we explore APA's extensive library of video tutorials. In addition to our APA Databases and Training Videos available on YouTube, we now have an emerging library of training videos on our new APA Style CENTRAL® YouTube Channel. Recordings of webinars, like the one linked below, and other training videos are added as they become available.
For today's edition of Tutorial Thursday, we'd like to share a recording of one of our APA Style CENTRAL webinars: APA Style CENTRAL Online Introduction.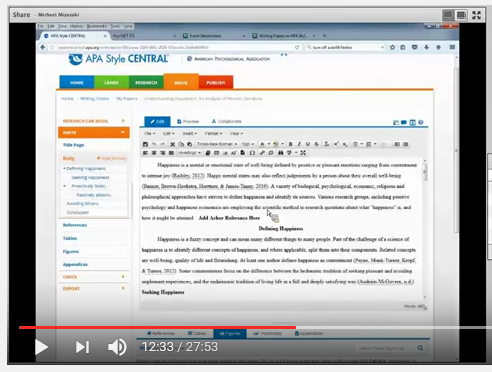 This 1-hour webinar, recorded Feburary 7, 2017, covers content, features, and tools in APA Style CENTRAL that can be incorporated into your research, writing or instruction.
is presented with librarians and other platform administrators in mind.
See for yourself how APA Style CENTRAL® can help a wide range of academic users at your institution to easily learn and use APA Style! This one-hour webinar introduces librarians to APA's newest APA Style® product, APA Style CENTRAL®. This introduction will include a content overview and demonstration of features.
Get acquainted with the APA Style CENTRAL platform
Tour the learning resources available through APA Style CENTRAL
Learn how you can use the platform to support all users of APA Style — students, faculty, writing center staff, and researchers
Get information about administrative tools for APA Style CENTRAL such as LMS integration and the Admin Center
Please feel free to link this video or any of our APA Style CENTRAL playlists in your library websites, LibGuides, course management systems, or other locations where students, faculty, and researchers will find them.
For information on attending this and other webinars please see our APA Style CENTRAL training web page.