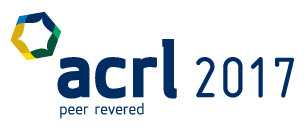 Will you be at the Association for College & Research Libraries (ACRL) Conference in Baltimore? APA will be offering two training sessions this year, and we hope to see you at one of them!
Can't attend the session you're interested in? Stop by booth #1011 for a demo and updates.
APA Style CENTRAL® Lunch & Learn
Thursday, March 23, 2017
12:30 – 1:45 p.m.
Join us to learn more about how you can use APA Style CENTRAL on your campus. We'll have a discussion about how APA Style® is being taught on your campus and how APA Style CENTRAL can fit into your current workflow. We'll also look at tools and services in APA Style CENTRAL from faculty, student, and academic support perspectives, suggesting possible opportunities for partnership and collaboration.
Don't have a current subscription or trial? Don't worry! This session is intended for all those interested in how APA Style CENTRAL can be integrated into campus workshops, programs, and curricula.
Walk-ins are always welcome, but priority will be given to participants who register in advance. Be sure to RSVP if you plan to attend: http://asc-lunch.eventbrite.com/?aff=b
APA Databases Lunch & Learn
Friday, March 24, 2017
11:30 a.m. – 12:45 p.m.
Join us for an update on APA's Databases and Electronic Resources. This year's session will include a refresher on PsycTESTS®, and will also review new fields and features recently added to PsycINFO® as we celebrate it's 50th anniversary. The additions include new fields that highlight information that's increasingly important to researchers, such as data sets clinical trials, and that improve cross-platform searching and search precision.
We will also provide a brief overview of APA Style CENTRAL®, our institutional resource for learning, teaching, and writing in APA Style®. For more in-depth information on APA Style CENTRAL, consider attending our training session on Thursday.
Walk-ins are always welcome, but priority will be given to participants who register in advance. Be sure to RSVP if you plan to attend: http://apa-lunch.eventbrite.com/?aff=b