Today we'd like to highlight one of our APA Style CENTRAL handouts, "Customizing the APA Style CENTRAL® Writing Center Display" (PDF, 565K). Please feel free to link to this handout where students, faculty, and researchers will find it!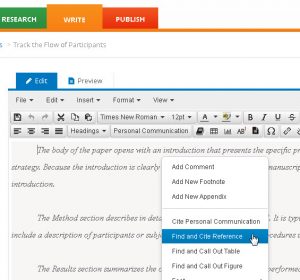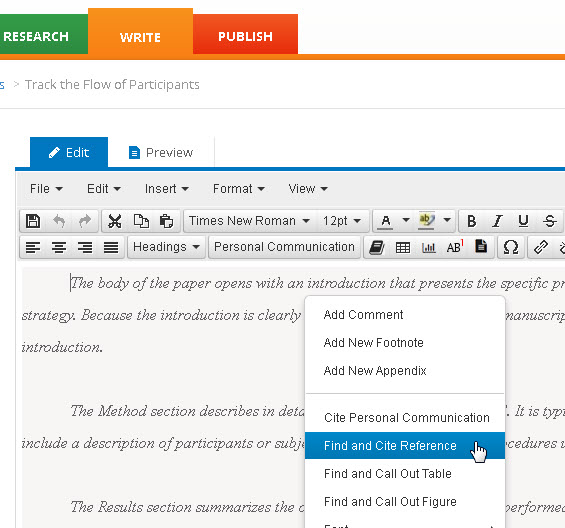 APA Style CENTRAL's Writing Center was designed to be flexible, offering a wealth of tools to help you manage the process of writing your paper or manuscript. Understanding that users often have different needs at different times, this resource shares how the display can be configured to accommodate your workflow preferences while you are writing your paper.
Details in the handout include:
Three (3) options for temporarily hiding the left navigation menu to maximize the amount of horizontal viewing space while you are working on your paper;
How to collapse the References pane and/or expand the Writing/Editing pane to increase the vertical display of paper text;
Activating full-screen mode; and
The "Find and Cite Reference" tool for creating an in-text citation when your References pane is hidden — or even when you just want to quickly cite your work without having to scroll down past the Writing/Editing pane to access the "References" tab.
These options can be activated while you are working on a paper. Default settings are restored whenever you exit the paper, log out, or otherwise begin a new browser session.
Want to learn more? You'll find this handout on our APA Style CENTRAL® Handouts and Guides page, where we continue to add handouts and documentation for users and administrators as they become available.
Do you have a "how-to" question about APA Style CENTRAL or some aspect of it you'd like to know more about? Please let us know!