Today we'd like to highlight one of our APA Style CENTRAL® handouts, "Research Lab Book: Develop My Research Idea" (PDF, 599K). Please feel free to link to this handout where students, faculty, and researchers will find it!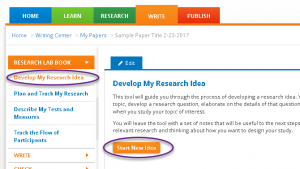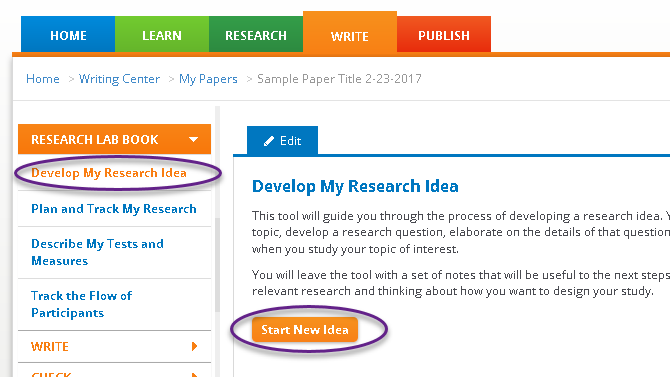 APA Style CENTRAL's Research Lab Book is a suite of tools to help you plan and document your research process. Develop My Research Idea guides you through developing a research idea that is neither too broad nor too narrow. Appropriate for use with original research or a literature review, this 5-step approach walks you through a structured framework for brainstorming your interests, identifying a specific topic, developing a research question, elaborating on the details of that question, and clarifying your expectations about the outcome of your research.
When you're done, you'll be ready to search for relevant literature and begin considering your study design.
Undergraduates and others who can benefit from a more structured way of formulating a research topic will find this tool helpful.
Faculty and writing instructors can also use these steps individually or in combination as assignments for their students. The flexible framework allows for informal notes or more formal documentation as needed, and the use of a common template can facilitate assessment.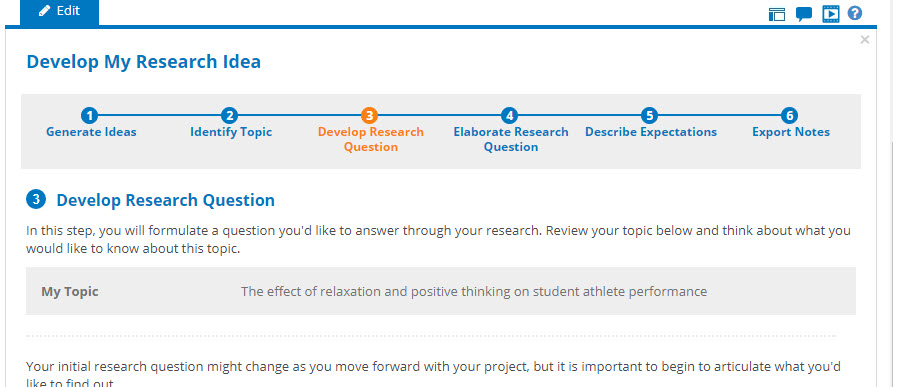 Details in the handout include:
How to access this tool from within a paper in the Writing Center;
Outline of the 5-step process for correctly scoping your research question along with a detailed example for Step 2 (Identify Topic);
Navigating and saving the steps on the linked timeline so you can return later and pick up where you left off; and
How to export your notes at any time to a Microsoft Word or PDF file.
In addition to Develop My Research Idea for structuring your research topic, the Research Lab Book includes three additional tools for planning and tracking your research, capturing information about tests and measures used in your research, and recording information about the participants in your study. You can use these research tools individually or in conjunction with each other.
Want to learn more? You'll find this handout — along with a link to our YouTube channel of video tutorials — on our APA Style CENTRAL Help page, where we post new training materials for users and administrators as they become available. Visit the APA Style CENTRAL Training & Support home page for information about training webinars, platform updates, contact information for APA Style CENTRAL support, and links to information about APA Style guidelines.
Do you have a "how-to" question about APA Style CENTRAL or some aspect of it you'd like to know more about? Please let us know!