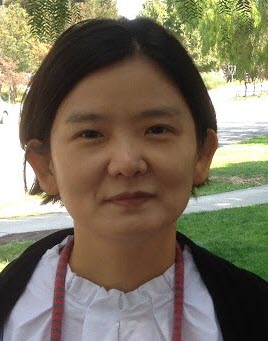 HyunSeung Koh, PhD of the University of Northern Iowa received the APA Librarian Conference Travel Award in the spring of 2019. She used the award to defray the cost of attendance at the International Conference on Performance Measurement in Libraries (LibPMC) annual conference in Aberystwyth, Wales in July. In support of her research involving the first year experience of international students, APA was pleased to help HyunSeung pursue this especially valuable opportunity for professional development, networking, and serving the field of librarianship.
Patti Avellanet of the Customer Engagement team for APA Publishing recently talked with HyunSeung about her conference experience. The following transcript of their conversation has been lightly edited for clarity and context.
Patti: Hi, HyunSeung! We're pleased that we were able to support your conference travel this past summer. What is your overall impression of the International Conference on Performance Measurement in Libraries (LibPMC)?
HyunSeung: It's small but mighty! With 121 attendees from 21 countries, it included a wide range of current and key topics in relation to library assessment. It was also a great venue for obtaining useful and practical insights from presenters with diverse cultural backgrounds, including non-American cultures.
Patti: It sounds like an impressive opportunity to exchange ideas, especially given your research interests involving the first year experience of international students. Were there any particularly noteworthy events that come to mind?
HyunSeung: Speaking of impressive, that's exactly the word that came to mind when I heard the "Pacman" metaphor in the opening remarks! It's a powerful analogy that explicitly shows participants what a small group of people talking in a closed circle could do to foster non-verbal welcoming behaviors and environments. I also enjoyed presentations from two keynote speakers from non-library disciplines, who did their best in delivering their different but controversial viewpoints in respectful ways. There was also a panel discussion consisting of members with diverse backgrounds in positions and cultures, which was organized according to up-to-date and controversial topics.
Patti: I think Pacman, differing viewpoints, and diverse professions all lend themselves well to memorable and lively discussions – especially when happening under the same umbrella! Was the rest of the conference as valuable as you had hoped?
HyunSeung: It was not an easy commitment for me to decide to attend this conference, requiring lots of planning ahead for a long international trip to a small city in Wales, UK, from a small city in Iowa. But I'm so glad I did! In the past, I spent most of my time and effort presenting my research work and attending sessions at a conference venue. This time, though, I also got to visit a university campus in the conference venue that has a main library and an arts center, and a culturally-rich city with historical buildings and sites such as the National Library of Wales. In particular, I really enjoyed exploring the main library in a non-American country, looking around each floor and collecting small paper pamphlets.
Patti: Visiting the National Library of Wales and taking in nearby cultural attractions sounds like a fantastic opportunity, especially after you've traveled so far!
HyunSeung: It really was! Attending this conference provided me with such a unique experience – not only the serious learning from the conference itself, but also authentic learning from the conference venue's location and surroundings. Individual presentations, especially from non-American presenters, were useful and insightful. They helped me to learn practical knowledge within unique contexts, and to remember that cultures and contexts are such critical factors. As an assessment librarian, I really appreciated this explicit reminder to challenge my own assumptions and not take them for granted.
Patti: "Aha!" moments like that often seem simple but no less profound. Did you leave with any useful takeaways you felt could be put into practice immediately?
HyunSeung: A free workshop I attended, "Data Librarianship," turned out to be a hidden gem. It helped me learn not only about practical skills but also about a global community of "library carpentry." There's a website full of resources that I can use right away for a project that a colleague and I recently received a federal grant for. (Editor's note: Library Carpentry is a volunteer effort working to build software and data skills within library and information-related communities.)
Patti: What a serendipitous and timely discovery for you and your grant-funded colleague! Would you recommend this conference to others?
HyunSeung: This would be a great conference for assessment librarians who want to get immediate help with any "burning questions" and practical insights from other assessment librarians within other institutions and cultures. I would also recommend it to those in administrative or leadership positions, playing such a critical role in the context of library assessment – and anyone else who wants to learn about practical knowledge and skills in terms of library assessment.
Patti: Is there anything else you'd like to share with our readers?
HyunSeung: I want to encourage librarians at early career stages to apply for this APA Librarian Conference Travel Award. In addition to the possibility of financial support, the application process provides a good opportunity to consider your career trajectory while writing the application letter; to plan ahead for what you want to learn from a conference even before travel starts; and to reflect again afterward upon what you actually learned from the conference [through this Q & A].
Patti: We appreciate that you've called out how even the application process can benefit your early-career colleagues, and we're pleased to have played a role in supporting your professional development. Best wishes to you, and thanks so much for talking with me today.
---
Would you or a librarian you know benefit from receiving an APA Librarian Conference Travel Award?
Now through November 30, 2019, the APA Librarian Conference Travel Award program is accepting applications for conferences taking place from January to April 2020.
The award is intended to help defray conference-related expenses for librarians with less than 15 years of experience after receiving their MLS / MLIS. One cash award is distributed three times each calendar year, and the application cycle opens and closes on a rolling basis. We are not currently limiting the conferences that are eligible for travel award funding. Applicants should identify the conference that best meets their professional needs and explain how attendance will support their current duties and future goals.
Please see the website for more details on eligibility, deadlines, and application materials. Questions about the APA Librarian Conference Travel Award should be directed to librariantravel@apa.org. Please help us spread the word by sharing this information with colleagues and friends who may be eligible!