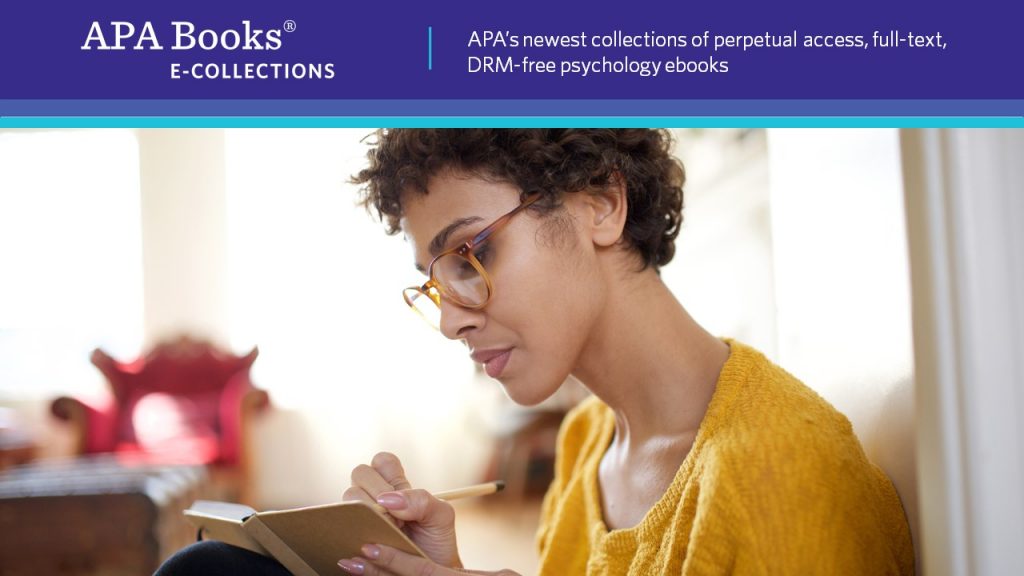 New titles are now available in your library's 2022 APA Books® E-Collection. Topics include the case against conversion therapy and consulting in the STEM industry. Additionally, check out recent releases on ethical consulting and prediction statistics. Be sure to post this blog on your social accounts using the "share" buttons at the bottom of this page!


Recently Released APA Books® E-Collections Titles


The Case Against Conversion "Therapy": Evidence, Ethics, and Alternatives


Edited by: Douglas C. Haldeman
Associated Courses: Human Sexuality, Philosophy of Love and Sexuality
E-Collections Edition: Full, Academic
What does the record show about the efficacy and effects of sexual orientation change efforts or gender identity change efforts? What motivates individuals to seek these harmful treatments, either for themselves or for their children? This book synthesizes findings from a vast literature base to answer these and other important questions, in hopes of fully discrediting sexual orientation change efforts or gender identity change efforts once and for all.
This volume also is grounded in the principle long embraced by the scientific and healthcare communities—that same-sex attraction and gender nonconformity are not signs of psychopathology. Rather, sexual and gender minority individuals should be supported in embracing their own identities. This affirmative approach to practice with sexual and gender minorities is consistent with decades of APA policy and ethics.


Consulting to Technical Leaders, Teams, and Organizations: Building Leadership in STEM Environments


Associated Courses: Counseling Process, Sociology of Work and the Professions
E-Collections Edition: Full, Academic
This book presents a rich discussion of the opportunities organizational consultants have to impact the development of technical leaders, teams, and organizations. The expansion of the tech sector has revolutionized how processes are conducted in almost every realm, from farming to medicine to communication to retail and so much more.
The role of technical leaders has evolved from supporting organizational functions to creating and leading corporations, many with worldwide impact. This boom in the technology industry has brought along unique challenges and opportunities for organizational consultants.


The Ethical Lives of Clients: Transcending Self-Interest in Psychotherapy


Associated Courses: Psychological Counseling and Psychotherapy, Contemporary Ethical Theory
E-Collections Edition: Full, Clinical
Clients often seek therapists' input for dealing with ethical dilemmas in their lives, but there is little guidance for therapists in how to do this. This book shows therapists how to serve as ethical consultants who help clients balance their personal needs with their sense of responsibility to others.
Using detailed case examples, it provides a roadmap for addressing common client dilemmas, such as keeping and ending commitments, having affairs, lying and deceiving, and causing psychological or physical harm to others.


Prediction Statistics for Psychological Assessment


By: R. Karl Hanson
Associated Courses: Statistics in Psychology, Statistics for Social Sciences
E-Collections Edition: Full, Academic
This comprehensive guide meets psychologists' and other social scientists' growing need to master the tools of statistical prediction. This is the first book to teach the nuts and bolts of prediction statistics, while illustrating the utility of prediction and prediction tools in applied psychological practice.
Written in a clear and accessible manner, this user-friendly book helps readers understand how to evaluate and interpret different kinds of prediction tools, appreciate the numeric information used in risk communication, and utilize prediction tools to inform evidence-based decision-making.
Looking to grow your library's collection of perpetual access ebooks?
Learn more about the 2022 APA Books® E-Collections:
Full Collection
33 titles covering timely topics such as immigration & multiculturalism, supporting LGBTQ+ communities, and resilience and self-care for therapists
Academic Collection
17 titles spanning critical areas including career assessment, technology & big data, and teacher training & course design
Clinical Collection
16 titles with clinical psychology, counseling, and psychotherapy applications.
Need help promoting your library's subscriptions?
APA has a new dedicated resource to help you promote your institution's access to APA databases. Discover tools such as social media ads and short training videos to communicate your library's APA subscriptions.