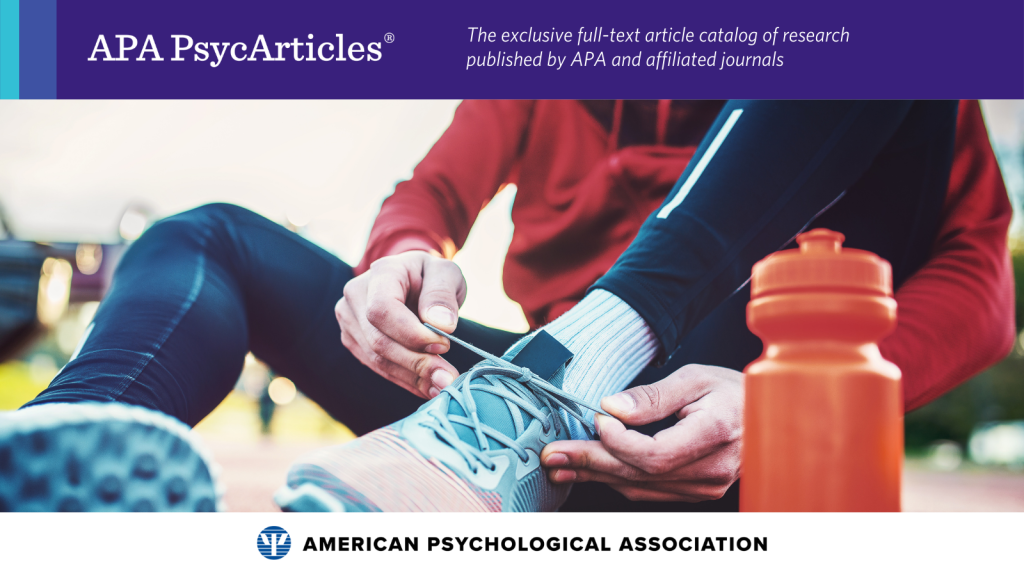 As part of our continuing efforts to provide essential resources for supporting psychology researchers and students, APA PsycArticles has been updated with a new journal title and special issues featuring some of today's most important topics. Read on to learn more:
Sports Psychiatry: The Journal of Sports and Exercise Psychiatry, published by Hogrefe Publishing Group, released its first issue earlier this year and is available now in APA PsycArticles. This open-access title is published quarterly, providing a platform for advances in all aspects of sports psychiatry including but not limited to the diagnosis, management, therapy, and prevention of mental disorders in competitive and popular sports, as well as to physical activity in the prevention and treatment of mental disorders. Leading the journal is editor-in-chief Malte Christian Claussen, MD of the Psychiatric University Hospital Zurich at the University of Zurich. Learn more about the journal and upcoming issues here.
If your institution subscribes to APA PsycArticles, be sure to update your coverage list to include Sports Psychiatry.
Special Issues
New special issues are now available in APA PsycArticles. This research features timely topics, including resilience to stress and trauma, support for military service members and their families, race and social justice, and more.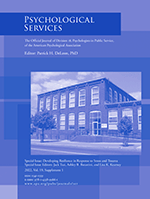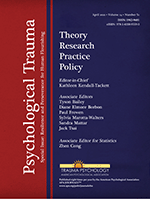 Psychological Trauma: Theory, Research, Practice, and Policy
Resilience and Perseverance for Human Flourishing
Inspired by a desire to shine a light on new ways to think about stress and trauma through resilience, perseverance, and posttraumatic growth, this issue includes articles ranging from youth to adulthood, including at-risk populations and multicultural considerations.
Issue: April 2022, Vol. 14, No. S1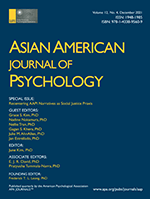 Asian American Journal of Psychology
The Growth of Filipina/x/o American Psychology
The authors of this special issue trace the history of Filipina/x/o American psychology and propose a framework that can guide future work in this area.
Issue: March 2022, Vol. 13, No. 1
ISBN: 978-1-4338-9574-6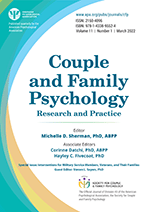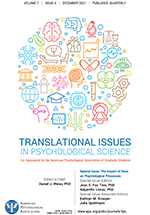 Translational Issues in Psychological Science
The Impact of Race on Psychological Processes
Focusing on the impact of race and racism on psychological processes, this issue sheds light on how individual, interpersonal, and institutional structures affect racial equity.
Issue: December 2021, Vol. 7, No. 4
ISBN: 978-1-4338-9568-5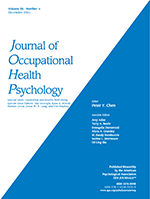 Journal of Occupational Health Psychology
Leadership and Health/Well-Being
This special issue introduces a set of papers that contribute to research on leadership and health/well-being from multiple perspectives.
Issue: December 2021, Vol. 26, No. 6
ISBN: 978-1-4338-9537-1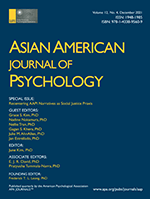 Asian American Journal of Psychology
Recentering AAPI Narratives as Social Justice Praxis
The special issue aims to create a space for focused dialog on social justice, by centering marginalized voices and amplifying counter-narratives that defy the stereotyped narratives about Asian American and Pacific Islanders (AAPI) people.
Issue: December 2021, Vol. 12, No. 4
ISBN: 978-1-4338-9561-6
Not yet a subscriber to APA PsycArticles?