As we hope most of you have discovered by now, APA's training team provides a wide range of training options on an ongoing basis. The advanced training webinars are presented live throughout the year. A recorded version of those sessions is also available. If you are unable to attend, want to share a session with colleagues, or find that the schedule doesn't work for your time zone, please check out the recorded sessions available on APA PsycNET, EBSCOhost, OvidSP, and ProQuest.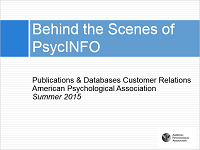 In the Behind the Scenes of PsycINFO training, we provide a review of the structure of APA Database records, including the elements of the bibliographic citation, controlled vocabulary and indexing. We also review value-added fields, such as classification codes and tests and measures. Sample searches are used to demonstrate these fields, as well as the online thesaurus and keyword searching.
We will continue to provide the live sessions, of course. They give you an opportunity to ask us questions directly, and for us to hear your questions and concerns. These sessions are ideal for subject specialists, reference librarians, and instructors who provide support for behavioral sciences students and faculty. Take a look. And please feel free to share these with your colleagues.