As the semester draws to a close, students may begin to find that they have questions about the intricacies of APA Style®. Some can be easily answered by referring to the Publication Manual of the American Psychological Association, or one of our other style guides, but what about the trickier questions?
APA's Style Experts are here to help! On www.apastyle.org, you can find a variety of resources, including Frequently Asked Questions and a tutorial on The Basics of APA Style.
You can also visit the APA Style Blog, where Style Experts address some of the most common, and most interesting, questions that they receive from students, librarians, and authors.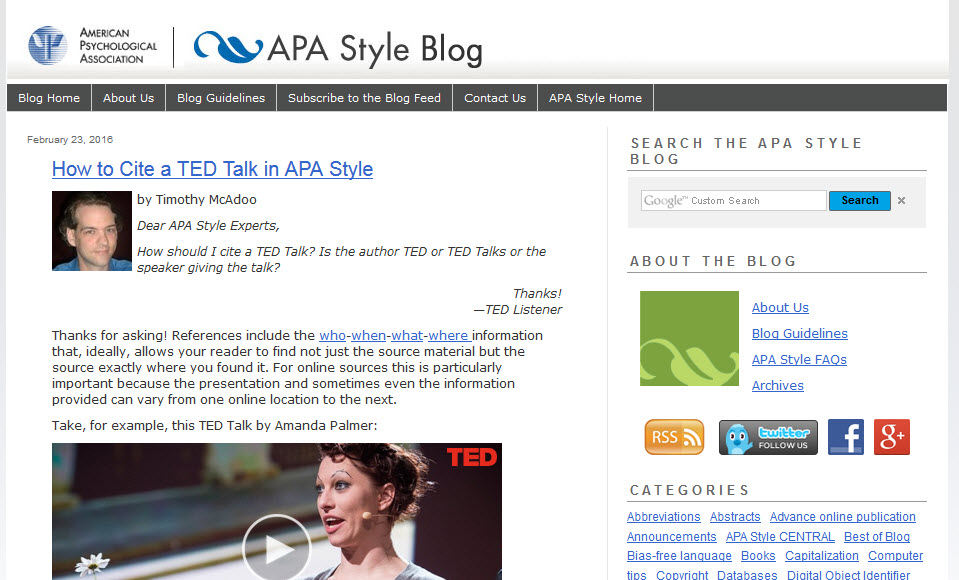 You'll find posts covering how to cite the video of a TED Talk, use of "they" as a pronoun, dealing with DOIs, citing online maps, and more. Just use the search box at the top right to see if a Style Expert has already answered your question.
If not, you can submit your question via email to styleexpert@apastyle.org. Please note that if you're on a tight deadline, they may not be able to get back to you in time. If your question is regarding how to cite something that you can't find an example of, this post can help!
Style Experts also monitor social media for questions and comments. You can find them online at:
Related Resources:
Learn more about APA Style® CENTRAL, a suite of services and tools designed to ease the pain points encountered by students, instructors and librarians in teaching, learning, and applying APA Style. APA Style CENTRAL will launch this spring. To learn more and sign up for updates, visit www.apastyle.org/asc