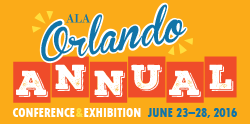 The American Library Association Annual Conference & Exhibition will be held at the Orange County Convention Center in Orlando, FL, from June 23-28, 2016. Look for representatives from the American Psychological Association in the exhibit hall, at booth 1743. Stop by to learn more about APA Style CENTRAL®, an exciting new electronic resource for APA Style® that's launching this summer, and get the latest updates about APA Journals, Books, and Databases.
Exhibit hours:
Friday, June 24: 5:30 – 7:00 p.m. (Opening Reception)
Saturday, June 25: 9:00 a.m. – 5:00 p.m. (APA Style CENTRAL Reception at 3:30 p.m.)
Sunday, June 26: 9:00 a.m. – 5:00 p.m.
Monday, June 27: 9:00 a.m. – 2:00 p.m.
Special Events & Training Sessions:
In addition, APA will be hosting several special events and training sessions during the conference: