It's Tutorial Thursday! In this series, we explore APA's library of video tutorials available on the PsycINFO YouTube channel and the APA Style CENTRAL® YouTube channel. Please feel free to link to or embed our videos in your library websites or LibGuides, course management systems, or other locations where students, faculty, and researchers will find them.
We recently updated one of our most-viewed videos: How to Format a Citation in APA Style® on EBSCOhost.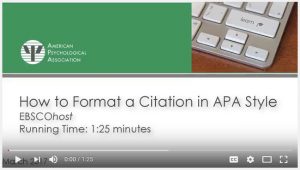 This brief video demonstrates how to export APA Style citations from PsycINFO® (or any other database) on the EBSCOhost platform.
This is a great resource to link from a LibGuide or course module for any class working with APA Databases on EBSCOhost, and can be helpful in answering email or chat reference questions. The previous version of this tutorial will remain available, but if you have embedded or linked to it anywhere, we encourage you to update your materials to link to this new version.
Related Resources: