The most recent recipient of the APA Librarian Conference Travel Award, Kelsey Cheshire from the University of Illinois at Urbana-Champaign, used the award to defray the cost of attendance at the annual Charleston Conference in November. Patti Avellanet in APA's Databases & Electronic Resources Customer Relations group recently talked with her to get her impressions of the conference. The following transcript of their conversation has been lightly edited for clarity and context.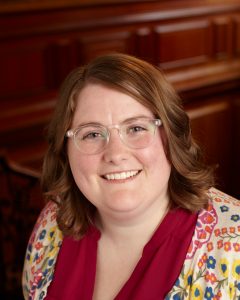 Patti: So tell me about Charleston! Was the experience as valuable as you had hoped it would be?
Kelsey: The Charleston Conference was great!  I really enjoyed the thought-provoking presentations and discussions about our ever-changing library collections, roles, and products. I'm glad I had the opportunity to attend with APA's support.
As an early-career librarian, I probably can't overstate how valuable it was to do my first presentation at a national conference. My colleagues and I presented historical data about our monograph purchasing at the University of Illinois at Urbana-Champaign, including discussing our various pilot programs and vendor plans that have helped shape our purchasing plan. It was fun to provide my perspective as a new bibliographer.
Patti: I think the novel perspective from the proverbial "new kid on the block" is always valuable. I'm sure that your conference colleagues who find themselves in similar situations gained valuable insights from your team's experience of cobbling together seemingly independent pieces into a cohesive book-buying plan.
I recall one of your other objectives for attending Charleston was to learn how your peers are approaching collection development and acquisitions with innovative solutions. It sounds like it provided the perfect environment for picking up some actionable ideas that you can incorporate into your library's development approach.   
Kelsey: It is such a unique gathering of library folks and vendors sharing their experiences and challenges, that I think everyone can get some valuable takeaways.
Patti: It certainly seems that this was an extremely rewarding conference experience for you, especially as a an early career librarian! Is it safe to assume that you would recommend attending the Charleston Conference to other librarians?
Kelsey: I'm tempted to say that everyone who works in a library should go at least once! There's something for everyone, no matter your interests.
Patti: Is there anything else that you'd like to share with our readers?
Kelsey: I'm grateful to my colleagues who invited me to collaborate on our presentation — so a special thank you to Lynn  Wiley, Stephanie Baker, and George Gottschalk! I'd also like to say "thank you" again to APA staff for coordinating this award — and in joining me for dinner while I was in town!
Patti: It's great to know that you made the most of your attendance at the Charleston Conference, and that APA played a part in helping you contribute to the field with your presentation. Thank you for taking the time to talk with me today.
Would you or a librarian you know benefit from receiving an APA Librarian Conference Travel Award? From January 1 through March 31, 2018, the APA Librarian Conference Travel Award is accepting applications for conferences taking place from May – August 2018. Please visit the website for more details on eligibility, deadlines, and application materials.