The APA Handbooks in Psychology series was launched in 2011 to provide comprehensive overviews and in-depth study of specific subfields within psychology. All of the Handbooks are included in the PsycBOOKS® database, and titles are also available individually.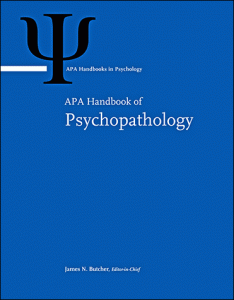 The series currently contains 27 authoritative titles, including the 2014 CHOICE Outstanding Academic Title, APA Handbook of Sexuality and Psychology.
The most recent addition to this series is the APA Handbook of Psychopathology, edited by James N. Butcher and published in February 2018.
This Handbook provides an overview of symptoms and classification of disorders, and discusses the history of psychopathology, behavioral genetics, cognitive research methodology, brain imaging, behavioral observation, personality assessment, and developments in social policy, government policy, and legal decisions. The handbook also addresses the considerable challenges produced by rapid progress in the field, including the evolution of diagnostic systems that define disorders.
The handbook is composed of two volumes:
Volume 1: Psychopathology: Understanding, Assessing and Treating Adult Mental Disorders
Volume 2: Psychopathology in Children and Adolescents.
Material on each disorder is presented with a focus upon significant facets: the clinical picture, wherein contributors describe the symptoms of the disorder and its associated features; factors involved in the development of the disorder; relationships or comorbidity with other disorders; different assessment and treatment approaches.
Visit the APA Handbook of the Psychopathology web page for more information, including the full table of contents and editor biographies.
PsycBOOKS users on APA PsycNET® (including subscribers to APA PsycNET Gold, Gold Plus, and Platinum), EBSCOhost, Ovid and ProQuest can access the entire series by browsing PsycBOOKS or by performing a title search for a particular handbook.
Institutions also have the option of purchasing handbooks individually. Print only, Electronic only, or Electronic + Print options are available through APA, with electronic access provided via the APA PsycNET® platform. For more information on pricing and availability, please see the APA Handbooks in Psychology institutional purchase page or contact us at quotes@apa.org.