The Tutorials on APA Databases page has been redesigned for easier use. It contains the same content, but the tutorials are now grouped in playlists by platform (APA PsycNET, EBSCOhost, Ovid, and ProQuest).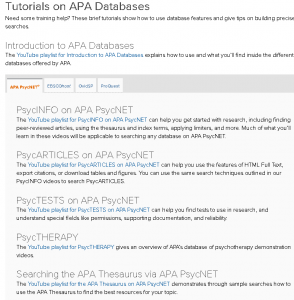 This page also contains the YouTube playlist for the Introduction to APA Databases that explains how to use our different databases and what you'll find inside each one. This information is helpful for new users or anyone that could benefit from a refresher.
If you're not yet familiar with this extensive library of video tutorials, we invite you to head on over and check it out! On the APA Databases site, look for the "Tutorials on APA Databases" link under the "Training & Technical Support" section in the right navigation pane.
Feel free to link to any of these playlists — or individual videos — in your library websites, LibGuides, course management systems, or other locations where students, faculty, and researchers will find them.
Related Resources: