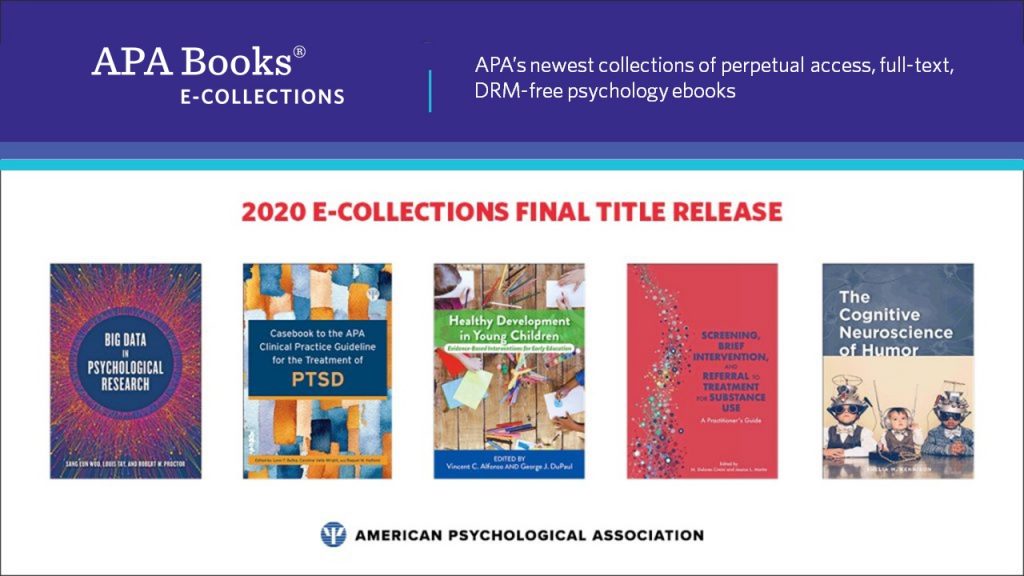 The remaining 2020 E-Collection titles are diverse in subject matter and include topics about the management of research data, how the brain processes humor, best practices for the clinical treatment of PTSD, and early childhood education intervention.
These new e-books will enable your users to develop research design and methods, learn best practices for working with individuals affected by PTSD, and assess patients for substance use referral and treatment.
Help your users easily find the content they need by sharing this list of recently released e-books along with any additional resources available through your library.
Interested in adding the 2020 APA Books E-Collection to your institution's catalog?
View the title list or contact us at psycdatabases@apa.org for more information.
Recently Released Titles
Big Data in Psychological Research
Edited By: Sun Eun Woo, Louis Tay, and Robert W. Proctor
Associated Courses: Qualitative Research Methods; Research Design; Methods in Clinical Psychology
Publication Date: June 2020
Technological advances have led to an abundance of widely available data on every aspect of life today. Big Data in Psychological Research addresses the opportunities and challenges that these data present to psychological researchers.
Casebook to the APA Clinical Practice Guideline for the Treatment of PTSD
Editors: Lynn F. Bufka, Caroline V. Wright, and Raquel Halfond
Associated Courses: Introduction to Clinical Practice; Clinical Practice with Individuals
Release Date: June 2020
Detailed guidance to help practitioners understand and implement the treatments recommended in APA's Clinical Practice Guideline for the Treatment of Posttraumatic Stress Disorder in Adults and the unique factors involved in PTSD treatment.
Screening, Brief Intervention, and Referral to Treatment for Substance Use: A Practitioner's Guide
Edited By: M. Dolores Cimini and Jessica L. Martin
Associated Courses: Substance Abuse Counseling; Psychology of Substance Abuse and Addictions
Publication Date: July 2020
An introduction for psychologists to screening, brief intervention, and referral to treatment (SBIRT), an evidence-based approach to identifying and treating substance use across a variety of behavioral health care settings and patient populations.
The Cognitive Neuroscience of Humor
Editor: Sheila M. Kennison                                                                   
Associated Courses: Behavioral Neuroscience; The Psychology of Humor
Release Date: July 2020
An overview of research on how the human brain works when processing humor and how the brain works under different conditions.
Healthy Development in Young Children: Evidence-Based Interventions for Early Education
Editors: Vincent C. Alfonso and George J. DuPaul
Associated Courses: Developmental Learning; Foundations in Early Childhood Education
Release Date: July 2020
Guidance for experienced educators and mental health practitioners who work with young children on how to implement programs and interventions based on the latest scientific research.
COMING SOON
The 2021 APA Books® E-Collections
The 2021 APA Books® E-Collections offers three purchase options: the Full, Academic, and Clinical Collections.
The 2021 Full Collection
Comprised of 34 titles to support psychological research and professional development in the behavioral and social sciences.
The 2021 Academic Collection
Includes 17 titles supportive of fundamental psychology research.
The 2021 Clinical Collection
A compilation of 17 titles relevant to clinical psychology, counseling, and psychotherapy applications.
Product features include:
Perpetual access with a one-time purchase
Multiple users, unlimited-use content
Downloadable as chapters or whole books
Ability to incorporate licensed materials in electronic course packs
Learn more about the 2021 APA Books® E-Collections
---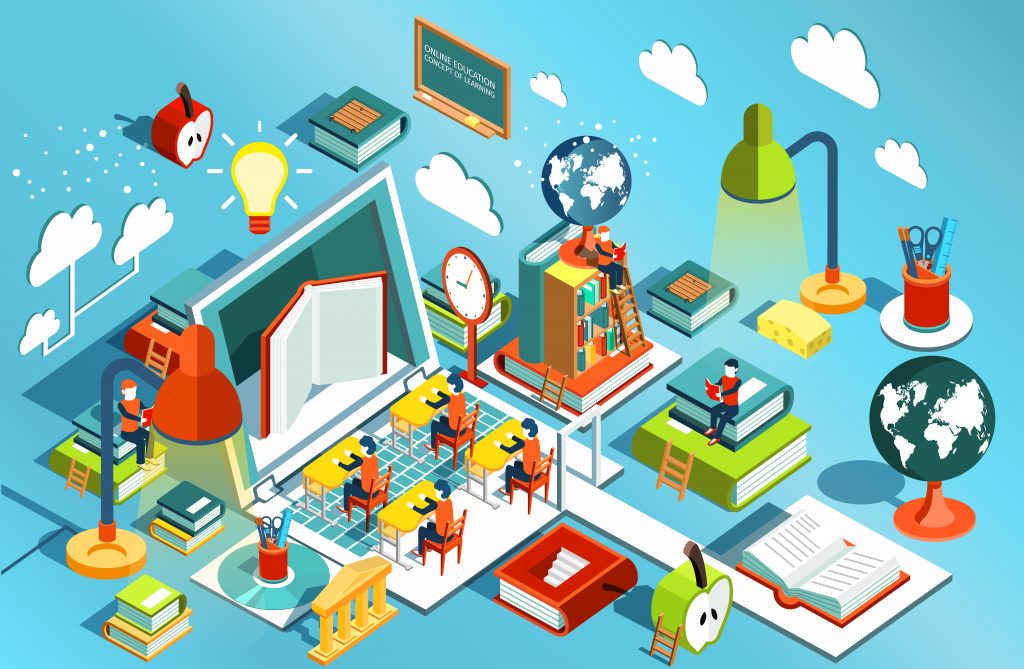 Are you looking for new ways to engage with your community and build awareness about the resources and services provided through your library?
The APA Librarian Resource Center features student resources, training, tutorials, webinars, product updates, new product releases, and more.