The final piece in our Getting Started with APA PsycTests series to help users become familiar with APA PsycTests®, this post provides tips for searching more precisely and finding test-related research. Check out the first two posts for more information: What is APA PsycTests, and How Can It Help Me? and FAQ's – Using a Test You've Found.
Maybe this sounds familiar: You need to find a test for your research project, but last time it took longer than you thought it would to find something useful. You want to learn how to search more effectively so you can find what you need faster. This post will show you how! It covers:
Why and how to search APA PsycTests by itself;
Exploring fields and limiters for more precise search results; and
Using the source citation information in the database record to find related research about how the test has been used before
I need to find a test related to my research topic. What's the best way to start searching APA PsycTests?
The most effective way to find a test is to search APA PsycTests separately from other databases. APA PsycTests has nearly 50 searchable fields, but only a handful are available when you search alongside additional databases. If you're not sure how to isolate APA PsycTests on your platform, ask your librarian.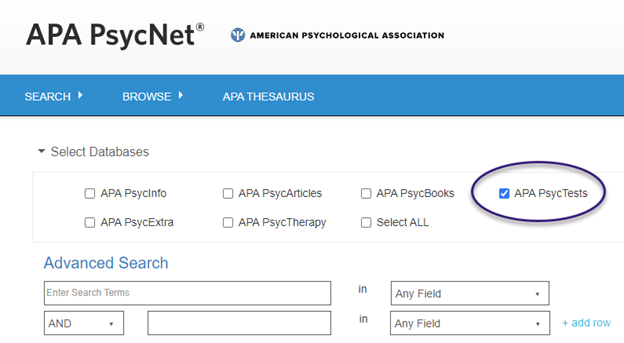 What options does APA PsycTests have for more precise search results?
When searching APA PsycTests apart from other databases, you'll see a lot of unique options to make your research more efficient. Take full advantage of all the APA PsycTests fields and put them to work for you!
Perhaps you're looking for a test developed for a particular population or age group, or maybe you only want to consider tests administered in an interview rather than as a questionnaire. Do you need to find a measure that's freely available for use in research or teaching?
Whatever your research scenario, you can set your APA PsycTests options at the start of your search. You can also apply filters to narrow your results. Although the placement and labeling of fields and filters differ between vendor platforms, the full set of database fields remains the same.
Each test record includes a description of the test and the psychological construct the test is designed to measure. You'll also see links to related content when available, such as other test versions, the full text of the test, and supporting documentation.
Additional examples of searchable fields and limiters in APA PsycTests include:
Index terms / subject headings (i.e., standardized search terms from the APA Thesaurus)
Permissions (e.g,. "May Use for Research/Teaching")
Full test available
Expert Tip: Using an APA PsycTests Classification Code can focus your search on measures used within a specific area of psychology. Education, trauma, parenting, cultural identity, legal evaluation, and aging are just a few areas covered by the APA PsycTests Classification Codes.
Can I learn more about how the test has been used?
Most APA PsycTests records have at least one source citation for research discussing the test. Look for the Source Citation information containing publication details for related research. A Digital Object Identifier (DOI) link in the citation will be especially helpful because it leads directly to the article on the publisher's web site. (Note: Be sure to check with your librarian before purchasing any full text because you may already have access to it.)
There are three types of source citations in APA PsycTests.
A Test Development citation for an article discussing the test's development is available for most tests (about 95%).
A Test Review citation for an article reviewing the test is available for a small percentage of tests (about 3%).
A Test Use citation for an article reporting a novel use of the test is available for a small percentage of tests (about 3%). An example would be a study in which the researcher administered a test that was originally developed for adults to teenagers.
---
That's a wrap for the Getting Started with APA PsycTests blog series! We hope these posts have helped boost your search skills so that you can find what you need faster.
Related Resources:
We recommend the following resources for learning more about searching APA PsycTests.
---