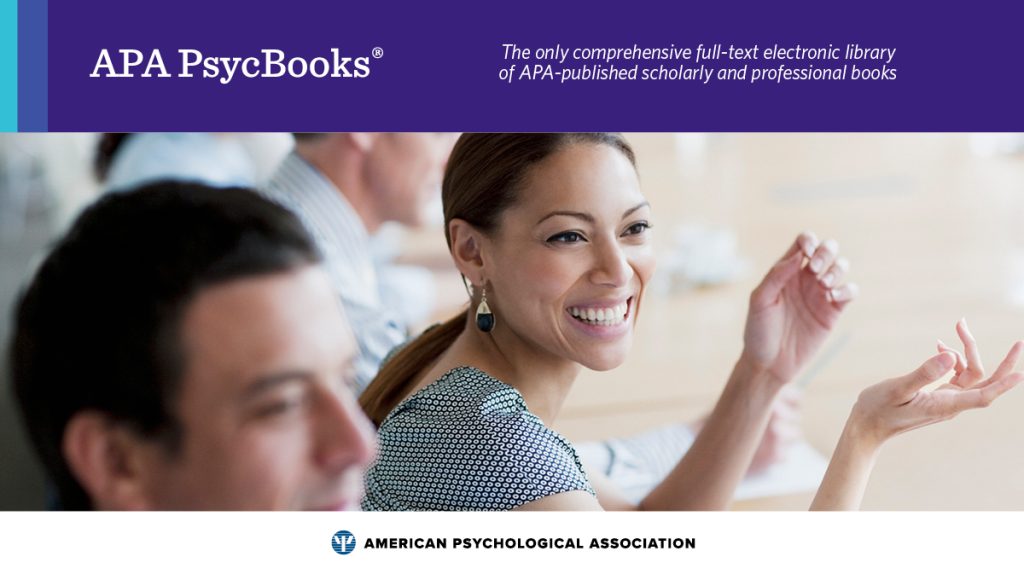 Recently Released Ebooks
APA Handbook of Consumer Psychology
By Lynn R. Kahle, Tina M. Lowrey, and Joel Huber
Associated Courses: Consumer Behavior, Consumer Psychology
The APA Handbook of Consumer Psychology presents a comprehensive survey of the field, including its historical background and critical sources of information in both core and emerging literature.
This book explores broad coverage areas including perspectives on consumer psychology, consumer characteristics and contexts, use of psychology to communicate with consumers, consumer cognitions and affect, and use of psychology to carry out business functions. The handbook provides a starting point for an examination of consumer psychology and ways to move the knowledge forward.
The Ethical Lives of Clients: Transcending Self-Interest in Psychotherapy
Associated Courses: Psychological Counseling and Psychotherapy, Contemporary Ethical Theory
Clients often seek therapists' input for dealing with ethical dilemmas in their lives, but there is little guidance for therapists in how to do this. This book shows therapists how to serve as ethical consultants who help clients balance their personal needs with their sense of responsibility to others.
Using detailed case examples, it provides a roadmap for addressing common client dilemmas, such as keeping and ending commitments, having affairs, lying and deceiving, and causing psychological or physical harm to others.
Prediction Statistics for Psychological Assessment
Associated Courses: Statistics in Psychology, Statistics for Social Sciences
This comprehensive guide meets psychologists' and other social scientists' growing need to master the tools of statistical prediction. This is the first book to teach the nuts and bolts of prediction statistics, while illustrating the utility of prediction and prediction tools in applied psychological practice.
Written in a clear and accessible manner, this user-friendly book helps readers understand how to evaluate and interpret different kinds of prediction tools, appreciate the numeric information used in risk communication, and utilize prediction tools to inform evidence-based decision-making.
Eye Movement Desensitization and Reprocessing (EMDR) Therapy
By Mark Russell and Francine Shapiro
Associated Courses: Psychology of Adulthood, Cognitive Psychology
Eye Movement Desensitization and Reprocessing Therapy (EMDR) is a unique, empirically validated approach that is recommended by the World Health Organization as a "first line treatment for posttraumatic stress disorder in adults."
In this book, the authors describe the theory of EMDR, provide the complete EMDR therapeutic protocol, the evidence base that supports it, and examine practical issues and common challenges related to implementing EMDR in clinical practice.
Gesture in Language: Development Across the Lifespan
By: Aliyah Morgenstern and Susan Goldin-Meadow
Associated Courses: Psychology of Language Development, Cognitive Development
This book investigates the rich and complex ways in which gesture precedes language development and is used in conjunction with language across the lifespan. It also explores gesture's many functions across cultures and ages, in monolingual and multilingual populations, in students and in teachers.
The chapters demonstrate how gestures contribute to the cognitive and social development of humans within their lifespan and may also indicate the efficacy of interactional practices and cognitive processes. This book is thought-provoking reading for all who study language development.
Strengths-Based Prevention: Reducing Violence and Other Public Health Problems
By Victoria Banyard and Sherry Hamby
Associated Courses: Psychology of Aggression and Violence, Contemporary Social Problems
Drawing from state-of-the-art research on a range of behavior problems such as violence, drug abuse, suicide, and risky sexual activity, this book provides practitioners and researchers with the means to make more impactful choices in the design and implementation of prevention programs.
This book synthesizes research on behavior change from a variety of disciplines, including psychology, public health, sociology, criminology, resilience science, critical race theory, and even urban planning. It emphasizes the importance of building enough protective strengths to insulate people from risks.
Help Keep Your Community Up to Date
Support your psychological community by announcing newly available resources and companion materials available through your library's APA PsycBooks subscription. Share this post to keep your users up to date.
Check out the APA Librarian Promotional Toolkit
APA has a new dedicated resource to help you promote your institution's access to APA databases. Discover tools such as social media ads and short training videos to communicate your library's APA subscriptions.

Does your library provide access to APA's newest releases?
As the demand for electronic resources increases, APA PsycBooks may be the right solution for your behavioral and social science programs. Find out with a free 30-day trial.