APA's training team provides a wide range of training options on an ongoing basis, including advanced webinars for librarians. This spring, we recorded these sessions and made them available on YouTube – a great option if you are unable to attend, want to share a session with colleagues, or find that the schedule doesn't work for your time zone.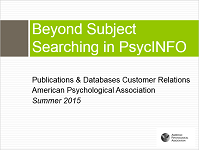 In our Beyond Subject Searching in PsycINFO training, we build upon the material we cover in our Behind the Scenes of PsycINFO training, and look at ways you can use the database for more than just locating articles. For example, have you ever used PsycINFO to identify the types of research being done at a particular institution, or find journals in which to publish new work? In this session, we also provide a review of searching for information on tests and measures, and highlight our Record Structure and Field Guide — tools that can help you become your library's PsycINFO expert.
Taking our Behind the Scenes of PsycINFO webinar first is not required, but this session does assume that you are familiar with the platform you use to access PsycINFO and with the basics of searching the database. For a refresher on topics such as the PsycINFO thesaurus and most-used fields and limits, you'll want to start with our Behind the Scenes of PsycINFO session.