Three new journals will be added to PsycARTICLES® over the course of 2016. We will provide updates on their availability throughout the year. More information about APA's journals, including special issues, is available on our website.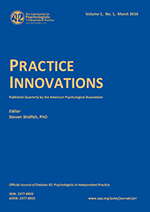 Volume 1, Issue 1 of Practice Innovations, a new publication from APA Journals, is now available. Readers can access this issue electronically via PsycARTICLES®.
The journal, which is the official publication of APA Division 42: Psychologists in Independent Practice, publishes papers on the standards, practices, and methods of professional mental health practice, and is cross-disciplinary with a multi-theoretical scope. Its first issue includes articles on tele-mental health and using principles of sketch comedy in practice.
PsycARTICLES users on APA PsycNET® (including subscribers to APA PsycNET Gold, Gold Plus, and Platinum), EBSCOhost, Ovid and ProQuest can review the first issue by browsing PsycARTICLES or by performing a title search for the journal.
Related Resources:
Learn more about Practice Innovations, including manuscript submission policies and information about subscribing in print.