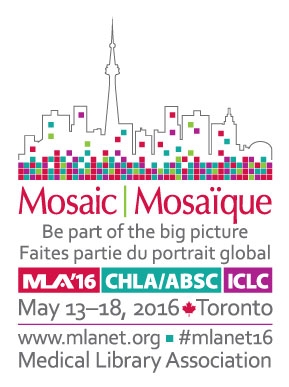 Mosaic '16, the joint conference of the Medical Library Association, the Canadian Health Libraries Association, and the International Clinical Librarian Conference, will be held at the Metro Toronto Convention Centre in Toronto, ON, from May 13-18, 2016.
Look for representatives from the American Psychological Association in the exhibit hall at booth 330. Stop by to learn more about APA Style® CENTRAL, an exciting new electronic resource for APA Style that's currently in development, and get the latest updates about APA Databases.
Exhibit hours:
Saturday, May 14: 5:30 – 7:30 p.m. (Welcome Reception)
Sunday, May 15: 12:00 – 5:00 p.m.
Monday, May 16: 10:00 a.m. – 4:00 p.m.
Tuesday, May 17: 10:15 a.m. – 3:00 p.m.
American Psychological Association Sunrise Seminar:
In addition, staff from the APA Databases & Electronic Resources Customer Relations group will be presenting a Sunrise Seminar training session during the conference:
Monday, May 16, 2016
7:00 – 8:45 a.m.
Metro Toronto Convention Centre, Room 202D
Breakfast will be provided – please RSVP so there's enough to go around.