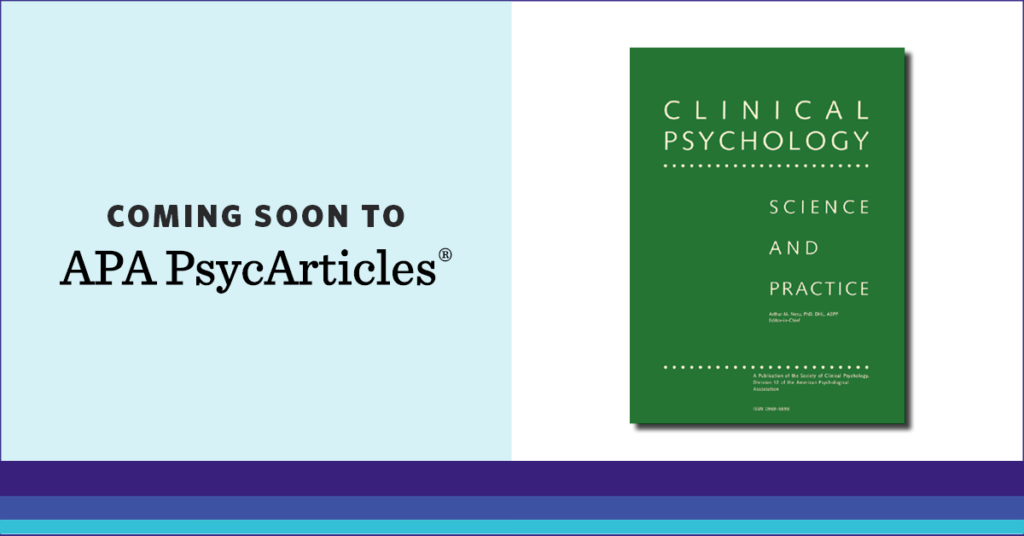 Editor-in-Chief: Arthur M. Nezu, PhD, DHL, ABPP
ISSN: 0969-5893
eISSN: 1468-2850
APA is pleased to announce the addition of Clinical Psychology: Science and Practice (CP:SP) to APA PsycArticles® beginning with volume 28, Issue 1 in January 2021. CP:SP is currently published by Wiley and will transition to APA in 2021. All back issues will be fully available on APA PsycArticles.
Published quarterly, CP:SP presents cutting-edge developments in psychology and related mental health fields by publishing scholarly articles, primarily involving narrative and systematic reviews along with meta-analyses related to assessment, intervention, and service delivery. With an impact factor of 5.541, this esteemed journal is ranked #5 out of 131 titles in the 2019 Journal Citations Report in the Clinical Psychology category. It is the official publication of the Society of Clinical Psychology, Division 12 of the American Psychological Association (SCP).
APA is proud to partner with SCP to publish their flagship journal of 27 years. Dr. Nezu, Distinguished University Professor of Psychology at Drexel University, has served as Editor-in-Chief since 2019.
Browse the coverage list for a complete catalog of current titles and ISSNs available in APA PsycArticles. For more information or to trial APA PsycArticles, please contact psycdatabases@apa.org.