The July and August releases cover subjects related to research and therapies for diversity and social justice issues, patients living with chronic disease, early childhood education intervention, cognitive neuroscience, and clinical guidelines for the treatment of PTSD.
The new releases featured below include books aimed to help students, faculty, and researchers in their studies related to PTSD, trauma, trauma recovery, and alternative treatments of PTSD. Please share this list along with any complimentary titles or resources available through your library.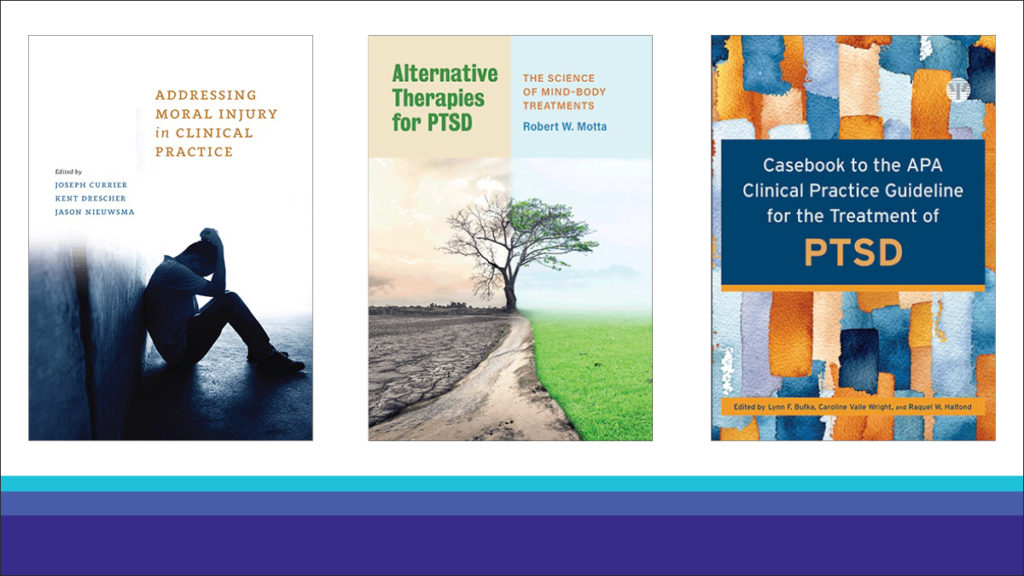 Three New Titles about PTSD Therapy and Treatment
Addressing Moral Injury in Clinical Practice
Authors: Joseph Currier, Kent Drescher, Jason Nieuwsma
Associated Courses: Understanding Trauma and PTSD; Trauma and PTSD
Release Date: August 2020
Leading experts summarize their views of moral injury as they advance theoretical models and clinical practices to support clinicians in caring for morally injured persons. Vivid case examples illustrate modifications to existing interventions for PTSD and novel approaches that have already received some scientific support.
Alternative Therapies for PTSD: The Science of Mind-Body Treatments
Author: Robert Matta
Associated Courses: Trauma and Posttraumatic Stress; PTSD and Combat-Related Trauma
Release Date: July 2020
This book covers what is known and what is still unknown or unproven regarding the use and clinical effectiveness of non-traditional treatments for PTSD, including mindfulness meditation, yoga, acupuncture, animal-assisted therapies, and MDMA-ecstasy. Included are clinical vignettes and insights derived from the author's experience as both a mental health provider and a military veteran with PTSD.
Casebook to the APA Clinical Practice Guideline for the Treatment of PTSD
Editors: Lynn F. Bufka, Caroline V. Wright, and Raquel Halfond
Associated Courses: Introduction to Clinical Practice; Clinical Practice with Individuals
Release Date: June 2020
This casebook offers detailed guidance to help practitioners understand and implement the treatments recommended in APA's Clinical Practice Guideline for the Treatment of Posttraumatic Stress Disorder in Adults. The editors describe the unique factors involved in PTSD treatment and the core competencies necessary for providers. Chapters then describe each treatment described in the guideline, summarize the empirical evidence for their effectiveness, and offer rich, detailed case examples demonstrating how readers can use these interventions with real clients.
---
Additional New Releases
Assessing Undergraduate Learning in Psychology: Strategies for Measuring and Improving Student Performance
Editors: Susan A. Nolan, Christopher M. Hakala, and R. Eric Landrum
Associated Courses: Practicum in Teaching Psychology, Seminar in Teaching Psychology
Release Date: August 2020
Healthy Development in Young Children: Evidence-Based Interventions for Early Education
Editors: Vincent C. Alfonso and George J. DuPaul
Associated Courses: Developmental Learning: Foundations in Early Childhood Education
Release Date: July 2020
Liberation Psychology: Theory, Method, Practice, and Social Justice
Editors: Lillian Comas-Diaz and Edil Torres Rivera
Associated Courses: Diversity and Social Justice; Multicultural and Social Justice Issues in Counseling
Release Date: July 2020
Psychological Treatment of Patients with Chronic Respiratory Disease
Editors: Susan M. Labott
Associated Courses: Psychology of Chronic Illness; Clinical Practice with Chronic and Life-Limiting Illness
Release Date: July 2020
The Cognitive Neuroscience of Humor
Editors: Sheila M. Kennison
Associated Courses: Behavioral Neuroscience; The Psychology of Humor
Release Date: July 2020
The Psychology of Groups: The Intersection of Social Psychology and Psychotherapy Research
Editors: Craig D. Parks and Giorgio Al Tasca
Associated Courses: Group Psychology; Psychotherapy Research and Methods
Release Date: August 2020
All new releases are accessible through your institution's APA PsycBooks Subscription.
Interested in more resources to support your access to APA Databases?
The Librarian Resource Center provides handouts, product updates, webinars, training, tools & tips, and more!
---
Not a current APA PsycBooks subscriber?
APA PsycBooks provides users with a solid foundation in the behavioral and social sciences and is a fundamental resource for any psychology department. Titles are added monthly and offer access to an extensive portfolio of DRM-free scholarly and professional books.
---