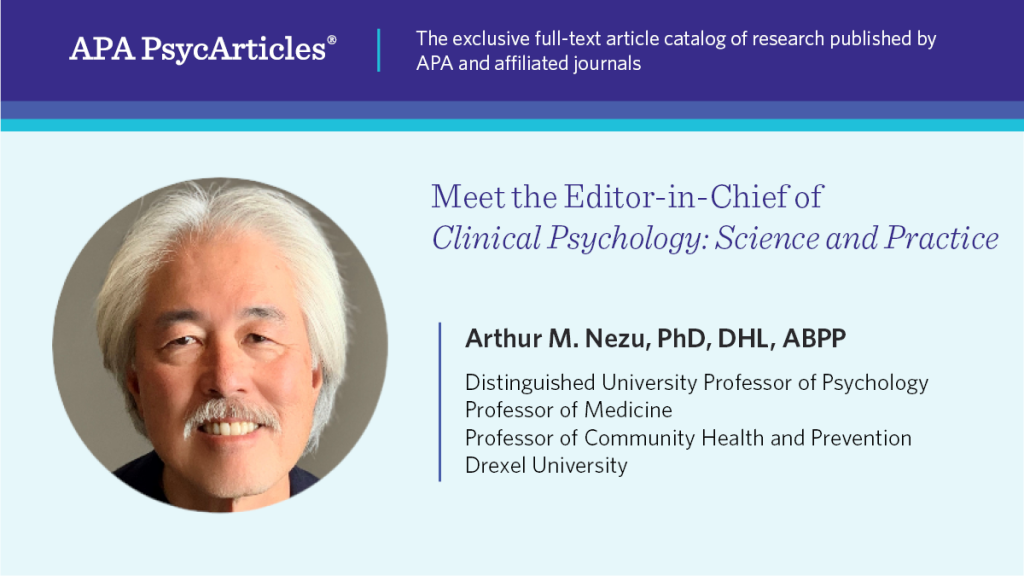 We are excited to add Clinical Psychology: Science and Practice (CP:SP) to the collection of journals available through APA PsycArticles, starting January 2021.
Arthur M. Nezu, Distinguished University Professor of Psychology at Drexel University, and Editor-in-Chief of CP:SP seeks to provide readers with multiple perspectives of areas in clinical psychology.
Dr. Nezu joined us for an exclusive interview to detail his vision for the journal, explain what sets this publication apart from other journals in the field, and provide advice to students and early-career researchers.
Priorities
Briefly, what are your main priorities? For example, how will you grow readership, what type of scholarship would you like to see in the journal, and what kind of content are you hoping to attract?
"I would like to greatly expand the breadth of topics to be covered. The field of clinical psychology is continuously innovative regarding research methodology and practice approaches. Multiple bridges are being built with other areas of psychology, as well as other scientific disciplines. I would like to capture these state-of-the-art trends and activities, as well as covering topics of interest to as wide an audience as possible. Transparency, accessibility, openness, diversity of topics and orientations, and diversity of stakeholders are all critical dimensions."
Journal coverage
What sets CP:SP apart from other related clinical psychology journals?
"The major aim of CP:SP is to publish cutting-edge trends and developments in the science and practice of clinical psychology. Unlike many other journals in clinical psychology, we do not publish individual research studies, such as clinical trials. Rather, CP:SP includes both narrative and systematic scholarly reviews, such as meta-analyses. Narrative reviews of topics should be based on empirical evidence. We also publish invited commentaries to provide multiple perspectives on areas addressed by major articles. Readers of CP:SP will obtain scientifically sound and broad syntheses in a variety of areas in clinical psychology. We welcome contributions from all theoretical orientations and diverse research approaches. CP:SP represents the best of scientific clinical psychology rather than a singular perspective."
Advice for early-career researchers
What advice would you offer students and early-career researchers entering the field?
1. Choose a topic that really excites you—one that makes you want to read more.

2. Read as much as you can, especially if you have easy or free access to various databases.

3. Download important articles and put them in the cloud.

4. Don't read journal articles alone—read books and book chapters as well.

5. When you read an article, don't just read it for the content; read it for the way it was written. Use strong articles as models for your own work.

6. If you are about to submit an article for publication in a journal, read the author guidelines carefully. If in doubt, contact the editor for additional information.

7. Continue to seek feedback and supervision.

8. As an early career psychologist, try to identify possible mentors to work with; collaborate with peers and others.

9. Don't be discouraged by rejection. Everyone gets rejected, even multiple times.
Read the full interview for Dr. Nezu's perspective on why this journal is so important to the field and its relevance to society.
---
Interested in subscribing to
APA PsycArticles?
---
Arthur M. Nezu is Distinguished University Professor of Psychology, Professor of Medicine, and Professor of Public Health at Drexel University. He is a board-certified psychologist, a fellow of multiple professional organizations, and recipient of numerous awards, including an honorary doctorate. He was previous president of both the Association of Behavioral and Cognitive Therapies and the American Board of Behavioral and Cognitive Psychology and a member of the Board of Trustees of the American Board of Professional Psychology.