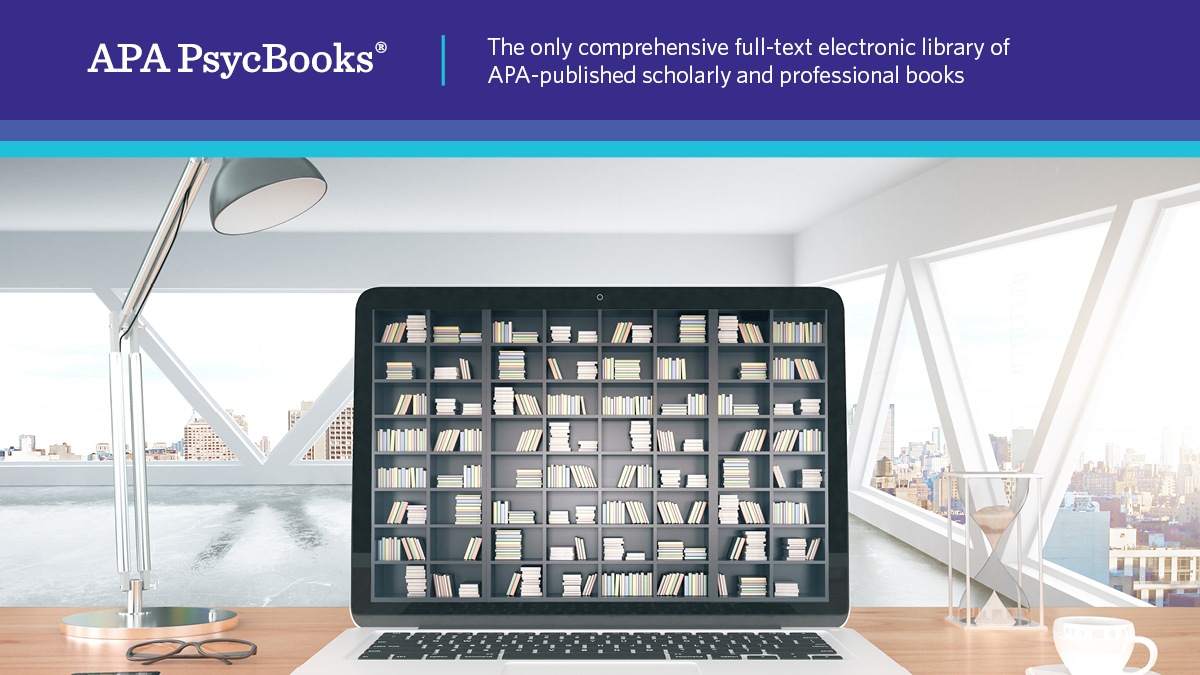 Three new titles and two companion series of e-books are now available through your institution's library as part of your APA PsycBooks subscription.
Recent additions cover topics including group psychology and insights into the behaviors of different types of groups in different types of situations; sexual evolution and theories referencing the work of Charles Darwin; and guidance for administrators and faculty for measuring, improving, and assessing student performance goals.
Two book series covering supervision topics and theoretical underpinnings of various therapeutic approaches were also recently added to APA PsycBooks.
Recently Released Ebooks
Psychology of Groups: The Intersection of Social Psychology and Psychotherapy Research
Editors: Craig D. Parks, Giorgio A. Tasca
Associated Courses: Applied Social Psychology, Seminar in Community Social Psychology
Group research spans a variety of types of groups and situations. One would expect to find hundreds of studies in the literature that test such questions and regular collaboration among experts who focus on different types of groups. Unfortunately, this is not so.
This book promotes a reversal of this trend. It opens with a review of the original collaborative efforts between group psychologists and group psychotherapists, and a discussion of how and why those groups diverged over time.
Male, female: The Evolution of Human Sex Differences, Third Edition
Editor: David. C Geary
Associated Courses: Human Sexuality and Gender
This third edition of this book is the authors' attempt to make the prose from the first and second editions more accessible and includes more direct interpretations of the gist of each section. The third edition contains an added chapter on "Sex Differences in the Modern World". This last chapter includes updates on many of the topics covered in the first edition (e.g., sex differences in academic competencies).
Assessing Undergraduate Learning in Psychology: Strategies for Measuring and Improving Student Performance
Editors: Susan A. Nolan, Christopher M. Hakala, Eric R. Landrum
Associated Courses: Practicum in Teaching Psychology
This book shows how to develop assessments that undergraduate psychology faculty and administrators can use when designing pedagogies, courses, and curricula around student learning goals, including those identified by APA's Guidelines for the Undergraduate Psychology Major.
The contributors are veteran educators who offer expert advice for addressing assessment‑driven pressures from individual and institutional stakeholders.
Theories in Psychotherapy Series
This series of titles covers the history, basic principles, theories, practice, and recent developments in a variety of disciplines within the field of psychology and is supportive of courses including Adlerian Psychology Theory and Application, Cognitive Basis of Behavior, and Psychotherapy and Counseling.
The Basics of Psychotherapy: An Introduction to Theory and Practice, Second Edition
Acceptance and Commitment Therapy
Adlerian Psychotherapy
Behavior Therapy
Brief Dynamic Therapy, Second Edition
Career Counseling, Second Edition
Cognitive–Behavioral Therapy, Second Edition
Cognitive Therapy
Emotion-Focused Therapy, Revised Edition
Existential-Humanistic Therapy, Second Edition
Family Therapy
Feminist Therapy, Second Edition
Interpersonal Psychotherapy
Narrative Therapy, Second Edition
Psychoanalysis and Psychoanalytic Therapies
Psychotherapy Case Formulation
Psychotherapy Integration
Rational Emotive Behavior Therapy, Second Edition
Reality Therapy
Relational–Cultural Therapy, Second Edition
Clinical Supervision Essentials Series
This series of titles represents central resources for understanding contemporary models of psychotherapy supervision and a collection of indispensable guides for students learning how to supervise, as well as practitioners seeking quick references to improve their supervisory skills.
Supervision Essentials for Accelerated Experiential Dynamic Psychotherapy
Supervision Essentials for the Integrative Developmental Model
Supervision Essentials for Cognitive–Behavioral Therapy
Supervision Essentials for Integrative Psychotherapy
Supervision Essentials for the Critical Events in Psychotherapy Supervision Model
Supervision Essentials for the Practice of Competency-Based Supervision
Supervision Essentials for Emotion-Focused Therapy
Supervision Essentials for Psychodynamic Psychotherapies
Supervision Essentials for Existential-Humanistic Therapy
Supervision Essentials for a Systems Approach to Supervision
Supervision Essentials for the Feminist Psychotherapy Model of Supervision
---
Help Keep Your Community Up to Date
Share this blog post to support your psychological community by announcing newly available resources and companion materials available through your library's APA PsycBooks subscription.
Additional APA product training, student and faculty resources, webinars, product updates, podcasts, and more can be found in the APA Librarian Resource Center.
Is Your Library in Need of More Digital Content?
As the demand for electronic resources has increased, APA PsycBooks may be the right solution for your library and users, find out with a free 30-day trial.
---