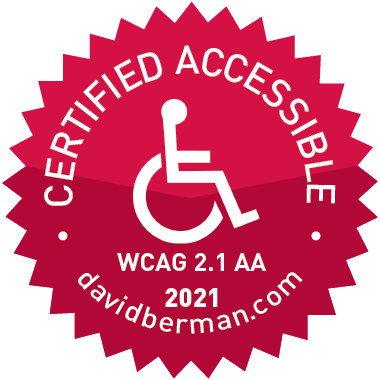 APA Publishing is proud to announce that our streaming video database APA PsycTherapy® recently received certification for full compliance with the Web Content Accessibility Guidelines (WCAG), version 2.1, Level AA. The accessibility evaluation was performed by David Berman Communications, a thought leader in the field of online accessibility.
Featuring prominent therapists demonstrating psychotherapy techniques during unscripted client sessions, APA PsycTherapy is a uniquely powerful instruction tool. Covering 150+ therapy approaches and more than 300 topics, the database currently exceeds 570 videos with a minimum of 20-25 videos added each year.
David Berman Communications referred to APA PsycTherapy as "an exemplary model of inclusive design" and also noted,
"We were remarkably impressed with the level of functional accessibility and technical compliance of [APA PsycTherapy], especially given the level of complexity of some of the user interactions! In particular, the extended descriptions and context for non-visual users are amongst the best we've encountered. And the focus on keyboard accessibility is nearly perfect."
Sharing his enthusiasm for this milestone achievement that supports APA's mission, Jasper Simons, APA's Chief Publishing Officer, said,
"I am excited that APA PsycTherapy now meets or exceeds the criteria for WCAG Level AA conformance. Streaming video is a complex medium, so this is a huge step toward APA's goal of making all of its websites and digital products accessible to the widest possible audience."
---
Interested in learning more?